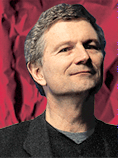 BEA Systems Inc.

POSITION: CEO and Co-Founder
CONTRIBUTION: BEA has rocketed to the top, making software upon which corporations build e-commerce and e-business Web sites.
CHALLENGE: Must hold off a bevy of big rivals, including IBM, Oracle, and Sun Microsystems.
When William T. Coleman III started BEA Systems Inc. (BEAS ) six years ago, he and his wife, Claudia, made a pledge: Half of the money he made from the new software company would be put toward research into technology to help people with learning disabilities.
Coleman had no idea how much that moment of altruism would eventually be worth. As it turns out, a lot. Today, the company's annual revenues are pushing $1 billion, and growth was a healthy 71% last quarter. His stake in the company is worth $500 million, and in November, Coleman, 53, made good on his charitable promise. He agreed to donate $250 million to a center for cognitive disability research at the University of Colorado.
While other e-business software companies such as purchasing specialist Ariba Inc. are struggling, BEA is strutting its stuff. That's because it makes the crucial software tools corporations need to quickly and efficiently build large and complex e-business applications. It handles everything from e-commerce Web sites to managing supply chains. "BEA has the chance to be the next great software company," says Sun Microsystems Inc. (SUNW ) President Edward J. Zander.
Coleman has made his own luck. After working in software development at Sun for 10 years, he set out to be an entrepreneur, even though it meant leaving behind stock options that would be worth $72 million today. He and two others started BEA to create software tools that tie corporate software applications together. Then, two years ago, Coleman had an epiphany: A fortune could be made in selling the underpinnings of e-business systems. He acquired WebLogic Inc., a maker of server software that acts as a foundation for Web applications--which now accounts for 70% of BEA's revenues. He also bought another 23 upstarts.
Analysts question whether BEA can stay ahead of its competitors forever. With giants such as IBM (IBM ) applying pricing pressure and catching up on the technology front, BEA's position isn't secure. It could use its relatively healthy stock--now trading at $43--to gobble up floundering Net software companies. Or it may move up into applications like customer management to keep growing at a rapid rate.
Coleman isn't worried. "There can be only one giant in this business," he says. "I believe we have enough of a lead for that to be us." The Microsoft of e-business? Somebody's got to do it.
Before it's here, it's on the Bloomberg Terminal.
LEARN MORE