The labor shortage may be driving entrepreneurs crazy, but it hasn't driven up wages for their workers. About 40% of small-company employees got a goose egg for a raise last year. On the other hand, small companies were twice as likely as bigger ones to pass out huge hikes to a select few, says Fortune Personnel Consultants.
Big companies often have to boost pay because of long-term employment contracts, says Fortune Personnel Consultants' Ron Herzog. Small companies have more flexibility in deciding whether to play Santa or Scrooge.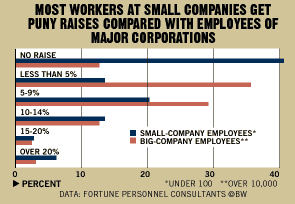 Before it's here, it's on the Bloomberg Terminal.
LEARN MORE