The Health Insurance Malady
The smaller the business, the higher the premiums. Something has got to give
Joshua Kendall
For about four months now, Eddie Brame hasn't been feeling very well. That's because last November, the owner of Printing Services of Greensboro Inc., a 28-person producer of corporate brochures, was hit with an unexpected 21% jump in his health-insurance premiums--an increase he has been struggling to cope with ever since. With employees already picking up one-third of the tab for individual coverage and two-thirds for family, passing on the costs isn't an option. So Brame has whittled the bill down a few percentage points by increasing prescription-drug copayments, and the rest is coming off the bottom line. "If I face a similar increase this year, I may be forced to do something drastic--like drop coverage altogether," he frets.
Brame had better brace himself. Health-insurance costs are projected to soar in 2001--and once again, small businesses will feel the pain most acutely. Premiums for companies with fewer than 50 workers, which have risen an average of 9% over the past two years, are expected to show a jump of 12% this year, according to a survey by benefits consulting firm William M. Mercer Inc. The major culprit: skyrocketing costs for prescription drugs, up 18% last year.
It's enough to make any entrepreneur queasy. Even worse, entrepreneurs will be hard-pressed to find any wiggle room. After years of increases, employers are loath to ask employees to contribute more. Last year, for example, employee deductibles for preferred provider organizations (PPO) already were about 40% higher for small companies than for big ones. And there isn't much left to cut. Only 53% of companies with fewer than 50 employees offered dental coverage last year, compared with 94% for those with more than 500, according to Mercer. Nor can small outfits tinker with their plans to bring costs down, as is common for large companies. "Small businesses often have to accept a standard plan," says Mike Matznick, president of the National Association of Health Underwriters.
Current economic conditions make things tougher. With the economy flat, many entrepreneurs are struggling with sales and funding woes. Yet the labor market remains stubbornly tight, forcing employers to continue providing health benefits if they hope to retain key employees. "Many small companies have no choice but to eat the premium increases," says William Lindsay III, CEO of Benefit Management & Design Inc., a Denver consulting firm.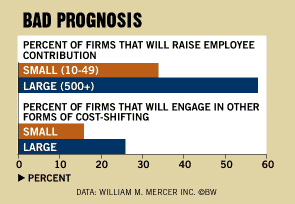 Musical Carriers. So entrepreneurs are grabbing whatever flexibility they can. For Jim French, owner of French Implement Co. in Charleston, Mo., that means playing musical carriers to keep health benefits for his 20-employee farm-equipment dealership. In each of the past five years, French has switched to a new health plan to take advantage of fluctuations in rates. He's not the only one using that strategy. Small employers change plans an average of every 18 months, according to National Small Business United, a Washington, D.C.-based advocacy group. French recently halved an expected 27% jump in premiums by switching PPO plans--and by doubling the deductible to $1,000. But with many insurers pulling out of the small-business market altogether, he worries about how much longer he can use this approach. "Fewer and fewer insurers are willing to write us a policy," he says.
Don't expect relief anytime soon. "The hellish premiums of the last few years are likely to get worse before they get better," says John Emling, health-care policy specialist at the National Federation of Independent Business. Feeling woozy? Better go see your doctor while you're still covered.
Before it's here, it's on the Bloomberg Terminal.
LEARN MORE