The Bankruptcy Maelstrom
A rising tide of deadbeats threatens to overwhelm even healthy companies
Janin Friend
It takes a lot to scare Robert J. Lovejoy. The 63-year-old owner of Cleveland's Lovejoy Steel Co. has been in the steel business for four decades and he has seen his share of ups and downs. But these days, Lovejoy is downright spooked. With steel prices near a 20-year low, the automobile industry in decline, and once-reliable customers missing payments, profits at the 90-person company have been steadily eroding. So far, Lovejoy has held on by cutting his workforce 10% and adding some new product lines. But others haven't been so lucky. Over the past several months alone, he has seen more than 10 steel companies file for bankruptcy. "It's the worst I've seen," Lovejoy says.
Things are likely to get even uglier. Thanks to a slowing economy and a sinking rate of savings, both personal and business bankruptcies are expected to soar this year. After two years of declines, personal bankruptcies will rise between 10% and 20% in 2001, according to SMR Research Corp., based in Hackettstown, N.J. At least 20% of those will be filed by small-business owners who have borrowed on credit cards or personally guaranteed loans, says Elizabeth Warren, a Harvard University professor who specializes in bankruptcy issues. Meanwhile, business bankruptcy filings, which have been falling since 1998, could rise by 10% this year--the same rate as during the recession of the early 1990s, says Steven D. Sass, a vice-president at Dun & Bradstreet's Receivable Management Services.
With less access to financing and a smaller asset base, the majority of those entrepreneurs will be filing for Chapter 7 liquidation instead of Chapter 11 reorganization, bankruptcy attorneys say. Even healthy small businesses could get sucked into the maelstrom when they find they are unsecured creditors in larger bankruptcy cases. Small outfits tend to be "at the bottom of the list" when it comes to collecting debts, says Samuel J. Gerdano, executive director of the American Bankruptcy Institute. "And more troubled companies are going to be filing."
Entrepreneurs like Rebecca W. Bass are scrambling to avoid that fate. Just last May, Bass's Atlanta company, Galileo Development Systems, a maker of expense- and time-reporting software, received $1.1 million in venture-capital and angel financing. By November, most of that had run out. CEO Bass used her limited reserves to pay creditors and severance to four terminated employees, and she and three remaining executives worked without pay while searching for a merger partner. "We needed more gas, and all the gas stations were closed," says Bass.
Bass recently inked a deal to be acquired by Crius Inc., a Washington computer-networking services company. Others have not been so fortunate. NationStreet Inc., a Westborough (Mass.) outfit, once had a thriving business helping retailers ship large consumer goods. With clients such as mattress giant Simmons, Furniture.com (which filed for Chapter 11 bankruptcy in November), and Amazon.com (AMZN), NationStreet was growing fast and had even begun planning an initial public offering. But when the tech economy crashed, investors got nervous and backed away. In January, the five-year-old company dismissed 100 employees and filed for bankruptcy liquidation. "They just ran out of money," says Paul D. Moore, NationStreet's lawyer with Duane, Morris & Heckscher LLP in Boston.
While bankruptcy is a harsh blow to the entrepreneurs involved, a single filing also can cause severe headaches for otherwise healthy businesses. Scott R. Fohrman, CEO of Milmour Products Inc., a Skokie (Ill.) designer of promotional products for consumer-goods companies, was stuck with $40,000 in accounts receivable when a Kansas client filed for bankruptcy in December. Because the 15-employee company is an unsecured creditor, Milmour will probably receive only pennies on the dollar from the bankruptcy. "It's the first bankruptcy problem I've had in 15 years," Fohrman says. And it couldn't come at a worse time. Fohrman is expecting a "lousy" first quarter as customers, worried about a recession, hold back orders. He'll have to dip into his cash reserves to cope, possibly tapping a heretofore untouched line of credit.
Fohrman should count his blessings--at least he has some available cash. With credit quality deteriorating, lenders are growing reluctant. "Lenders, predominantly banks, are more conservative than they were six months ago," says Edward I. Shifman Jr., New England regional manager for Congress Financial Corp., a New York financial services company.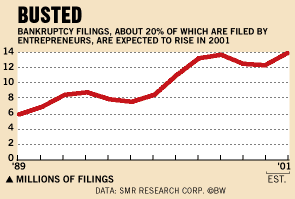 This could spell trouble for small businesses shopping for a loan. Already, some companies are treading on thin ice, particularly those that are heavily indebted. William H. Foster, owner of Town & Country Industries Inc., a Munster (Ind.) printing company, has had little margin for error since he completed a leveraged buyout in 1998. He has trimmed his 53-employee staff to 46 through attrition or layoffs, is phasing in a 5% price increase to offset slower sales, has frozen salaries, and is requiring employees to pay 50% of their health-insurance premiums. "I am a printer, but I can't print money," he says. "There aren't any cash surpluses, so I have to keep everything in line." That's good advice for any entrepreneur in this economy: Watch your bottom line, or risk joining the growing queue at bankruptcy courts.
Before it's here, it's on the Bloomberg Terminal.
LEARN MORE