Sunbeam's Sole Ray Of Hope
With its $2.6 billion debt wiped clean, it can start over
Charles Haddad
Where have you gone, Joe DiMaggio? Years ago, the avuncular endorsement of the late New York Yankees superstar helped make Mr. Coffee the leading drip coffeemaker in the U.S. Mr. Coffee, which was acquired by Sunbeam Corp. in 1998, is still No. 1. But Sunbeam could use Joltin' Joe's magic touch. On Feb. 6, the Boca Raton (Fla.) appliance maker struck out, filing for Chapter 11 bankruptcy protection.
Yet a chance to reorganize its affairs may be the bitter pill needed to restore Sunbeam to health. Without its $2.6 billion debt burden, which cost $200 million in interest each year, the company will be able to spend more money rejuvenating its aging product line--something retail experts say it should have focused on years ago. Although sales of core products, such as Mr. Coffee and Oster blenders, are strong, CEO Jerry W. Levin, 56, knows that without new small-appliance lines, Sunbeam's prospects are bleak.
Levin had no serious alternative to Chapter 11 if he wanted to get Sunbeam out of the hole dug by its former boss, the infamous "Chainsaw Al" Dunlap. In the mid-1990s, Dunlap alienated Sunbeam's retailers, laid off half its 12,000 workers, and racked up billions in debt buying new brands. Under Dunlap, Sunbeam even booked goods as sold when they were actually piling up in retailers' warehouses. Dunlap got the boot in 1998, but the damage was done. Sunbeam's losses totaled $1.2 billion in 1998 and 1999, and analysts project a $275 million loss for 2000.
Levin came in as a veteran of turnarounds at Revlon Inc., a company controlled by billionaire investor Ronald O. Perelman, and at Coleman, now a Sunbeam unit. As CEO, he won back the confidence of retailers such as Wal-Mart Stores and also scraped up $60 million for new product development. But with those huge interest costs, it just wasn't enough.
Chapter 11 gives Sunbeam some breathing room. "We'll get rid of a couple billion dollars in debt," said Levin. "And we'll do it relatively painlessly." Tell that to Perelman, whose 14% stake in Sunbeam--originally worth $588 million--has been wiped out. Perelman wouldn't comment, though a spokesman at his company, McAndrews & Forbes Holdings Inc., says all shareholders were "victimized by what happened at Sunbeam." Levin, tapped by Perelman to replace Dunlap, says his patron isn't bitter: "He's been very gracious about it. His attitude was, `You've been good troopers, but now you're on your own."'
Sunbeam plans to leave bankruptcy in six to nine months, says Levin. It will emerge as a private company owned by its lenders--Bank of America, Morgan Stanley Dean Witter, and First Union--who hold $1.6 billion in Sunbeam loans. But holders of Sunbeam's $860 million in convertible notes saw their investment wiped out. Last fall, they rejected a debt-for-equity swap that would have given them 23% of the company. "Nobody took the first offer seriously," says Hubert M. Stiles Jr., president of T. Rowe Price Recovery Fund, owner of about 3% of Sunbeam's convertible notes. "It was ridiculous." Now, says Levin, they will likely get nothing after the bankers' secured loans are taken care of.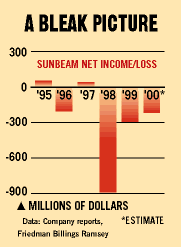 SMART APPLIANCES. Sunbeam's hopes now are pinned on new products. "Sunbeam's real problem was reconstruction of its brands, not a financial fix," says Chicago retail consultant Sid Doolittle. Levin's new lineup, seen and admired by analysts, includes a home-electricity generator powered by fuel cells and the Thalia line of Internet-connected "smart" appliances, including an alarm clock that downloads traffic reports from the Web. They will go on sale later this year. "This is exciting new technology, and Sunbeam is the first to have it," says Rommel Dionisio, an analyst at investment bank Friedman Billings Ramsey.
If it all works out, Levin will take the post-Chapter 11 Sunbeam public, the bankers will recoup their loans, and he'll be the hero who saved the company. That would be a legacy worthy of The Yankee Clipper himself.
Before it's here, it's on the Bloomberg Terminal.
LEARN MORE