Maybe Old And New Media Can Mix
Time Inc.'s magazines are selling well on AOL
Tom Lowry
At a magazine publishing powwow last October in Bermuda, Robert W. Pittman, then co-chief operating officer-designate of the proposed AOL Time Warner Inc., slipped a little factoid into his speech: "500,000 new subscriptions sold on AOL in five months," he told the audience. Much of the conference had been focused on ways magazine publishers could deal with the recent collapse of the sweepstakes companies, which had put a big dent in new subscriptions. Now, Pittman was boasting how America Online Inc. had become a subscriptions engine for Time Inc., even before the AOL Time Warner deal had closed. Rival publishers must have hated him.
Three months later, there's even more to envy. In AOL Time Warner's first meeting with Wall Street analysts on Jan. 31, Pittman tossed out an update: 800,000 new subscriptions in eight months. While publishers are experimenting with new ways to sell subscriptions, including their own Internet initiatives, nothing has yet replaced the selling power of once-top firms American Family Publishers and Publishers Clearinghouse. At their peak in the mid-1990s, they accounted for fully one-third of all new magazine subscription sales. But at Time Inc., the country's largest magazine publisher with some 60 titles, including Time, People, In Style, Sports Illustrated, and Fortune, AOL is emerging as a strong antidote to the company's sweepstake ills. "This is the greatest subscription marketing opportunity I've seen, bar none," says Chip Block, a strategist at magazine publisher Ziff Davis Media Inc. "There are so many different ways to approach [AOL's] 27 million subscribers."
It's just the kind of synergy AOL Time Warner's execs dream about. Subscriptions to Time Inc.'s magazines may be a small piece of the total AOL Time Warner pie, but clearly Pittman and others are using it to show Wall Street how the two companies together can rev up revenues. But selling magazines online is among the easiest of cross-promotions between AOL and Time Warner. The real challenges will be in matching up other units to hit the ambitious target of 30% cash-flow growth in year one.
"PERFECT MODEL." Most of the new subscriptions pushed through AOL are trial offers, so cancellations could run high once the freebies run out. Time Inc. executives won't say how many of those 800,000 subscriptions have actually been paid for, or what percentage they are of all new subscriptions in the same period. But execs point out that they're supported by credit cards, so when customers don't cancel, they have essentially signed up. And even if these Internet subs don't stick, the cost of acquiring new customers among AOL users is relatively low. In the past, sweepstakes companies typically pocketed 90% of the first year's subscription price. "AOL is the perfect model for us," says Time Inc. CEO Don Logan. "And who has its power and reach?"
The sweepstakes once had that power and reach. American Family Publishers, for example, used to send out 200 million mailings a year, using pitchmen Ed McMahon and Dick Clark to promote the contests in print and on television. And a surprising number of people saw the hard-sell letters as more than junk mail. Still, the sweepstakes' overly aggressive sales pitch led to their downfall. Consumers complained they were misled into thinking they were winners of big cash prizes and that they had to buy magazine subscriptions to enter the contests. State attorneys general investigated allegations of deceptive sales practices. Then Congress started its own probes, and by 1999, the sweepstakes were on the ropes. Publishers Clearinghouse and American Family have paid nearly $50 million in the past two years to settle with states and consumers.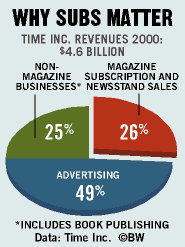 These issues were particularly prickly for Time Inc., whose parent Time Warner shared ownership with Chicago's Pritzker family in American Family Enterprises, parent of American Family Publishers. The company filed for bankruptcy protection in the wake of the crackdown. On Jan. 29, Time Inc. said American Family would not continue as a sweepstakes firm. At their peak, American Family and Publishers Clearinghouse helped magazines sell 60 million new subscriptions a year. "Today, with American Family out of business, Publishers Clearinghouse might sell five million subscriptions a year," says Dan Capell, editor of Capell's Circulation Report. But Logan says new initiatives, including selling on AOL, have helped recoup any losses from sweepstakes.
So what has Time Inc. done for AOL in return? Plenty, says Pittman. Although he won't disclose numbers, he says promotions in Time Inc. magazines have become one of AOL's top 10 sources for new members. As for the envy he has stirred up among magazine rivals, Pittman says AOL could open up to them as well--for a price. Every bit of revenue helps, especially when you come out of the box promising 30% growth.
Before it's here, it's on the Bloomberg Terminal.
LEARN MORE