For Mexicans, Loans For Microwaves To Mortgages
Retailer Elektra aims to be the top lender to the country's masses
Elisabeth Malkin
Gonzalo Escobedo likes dogs, which is essential in his line of work. As a bill collector for Mexican retailer Grupo Elektra, his job is to chase down customers who have fallen behind on payments on their washing machines or stereo equipment. While he cruises around the working-class suburbs of southern Mexico City on his motorcycle, barking dogs trail him. Escobedo, 32, handles angry debtors the same way he does the snarling canines. "I always offer my hand to show that I come in peace," he says.
Bill collectors like Escobedo are crucial to the success of Elektra, a retailer of home appliances, furniture, and electronics with estimated net earnings of $120 million last year, on sales of $1.5 billion. The company's specialty is selling on credit to Mexico's vast working class. That's a customer segment banks prefer to stay clear of. But Elektra is proof that for those who know how to manage risk, there are ample rewards. Gross margins on its credit operations average 76%, more than double those of its retail operations. And Elektra's loan default rate is just 3%.
"CREAM OF THE CROP." Now Chief Executive Javier Sarro wants to leverage Elektra's financial knowhow to drum up new business. "Our objective is to become the most important financial services player for the Mexican mass market," says Sarro, who was promoted from chief operating office to the top spot in January. That means turning Elektra's nearly 1,000 stores into one-stop shopping destinations.
In the market for a new refrigerator? Have your relatives in the U.S. wire the money direct to one of Elektra's stores. And while you're at it, why not open a savings account? Elektra's customers can already do all that. And by next month, they will also be able to apply for government-backed home mortgages, thanks to a partnership with Banca Quadrum, a small local bank, and housing developers.
Tapping into its database of 1.7 million active accounts, Elektra will market the government-subsidized home loans to the "cream of the crop," says Sarro. He also promises to charge borrowers lower processing fees than rival finance companies. Elektra is looking to sell 10,000 of the mortgages a year, for a profit of $10 million. That's about one-quarter of what the company makes from its thriving money-transfer business. But for Sarro, mortgages have an added bonus. "For 20 or 30 years, you're going to have a relationship with that customer," he says. "We have lots of products and services that customer is going to require, be it a living-room set...or a big-screen TV."
Credit operations already account for 36% of Elektra's gross profits. The loans don't come cheap, though. The annualized interest rate on a 39-week installment plan runs at about 56%. But Elektra customers have few other credit options in a country where even middle-class credit-card holders must put up with rates of more than 40%. And the cost of bill collection and credit inspections is very high. "If Elektra can duplicate what it's done on collection on mortgages, then that's very powerful," says Kenneth Owen, retail analyst at UBS Warburg in Mexico City.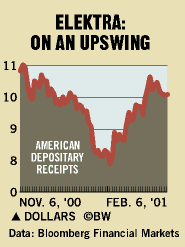 Elektra shares are up more than 22% so far this year (chart), but investors are still keeping a close eye on Elektra's hard-driving Chairman, Ricardo Salinas. His empire includes broadcaster TV Azteca, wireless phone operator Unefon, and the Internet service Todito.com. Salinas' habit of borrowing from his companies to finance new, and occasionally risky, ventures, has infuriated minority shareholders. To placate them, Salinas has appointed several outsiders to Elektra's board of directors. But his plan to buy back the 18% of TV Azteca held by Elektra favors his own interests, investors say.
NEIGHBORLY. Such Wall Street concerns are a world removed from that of Elektra's customers. Francisco Juarez and his wife, Martha, are regulars at their local Elektra store. "We've gotten used to the payments," says Juarez. When business at Juarez's small auto shop slowed in January, the couple fell behind on their bills and Escobedo the collector turned up on his motorbike. He readily accepted a partial payment along with Juarez' promise to pay off the balance the following Sunday.
Before it's here, it's on the Bloomberg Terminal.
LEARN MORE