Deutsche Borse Grows Rich And Hungry
Flush from its IPO, it could snap up the London Stock Exchange
David Fairlamb
Deutsche Borse Chief Executive Officer Werner Seifert was beaming like the Cheshire cat, and with good reason. The Frankfurt stock exchange's landmark initial public offering--the first by a Continental bourse--was 23 times oversubscribed. Priced at $315, the shares had risen 11% above their offering price at the close of their first trading day, Feb. 5. The successful IPO, however, was only the first act for Deutsche Borse, the public company.
Armed with what Seifert calls "acquisition currency," the DB is likely to go on a shopping spree that could turn it into Europe's largest and most powerful bourse, overtaking--and possibly swallowing--the London Stock Exchange. "We have high hopes that Seifert will transform Deutsche Borse into Europe's leading stock market," says Olgerd Eichler, a fund manager at Frankfurt's Union Investment. Europe's stock markets have toyed with consolidation for some time but have taken little action. The DB listing could get things moving.
It's easy to see why. In the seven years since he took the helm at DB, the pugnacious, pipe-puffing Seifert has turned what was once a provincial, German-focused exchange into one of the world's most innovative and aggressive, riding the emergence of Germany's equity culture. Eurex, in which DB owns a 50% stake, is now the world's premier derivatives mart. The Borse's Neuer Markt is Europe's top exchange for growth stocks. DB also owns stakes in specialist bourses and clearing systems. Its Xetra system is considered Europe's best electronic-trading platform.
Seifert now has the money to grow even more aggressively. The exchange made $178 million in the first nine months of 2000, and the sale of 27% of DB's shares netted more than $930 million. The DB market cap is now around $3.4 billion, well ahead of its rival, the London Stock Exchange, which is traded exclusively through the London brokerage Cazenove & Co. and has a market value of just $1.2 billion.
LSE executives fear that the ambitious Seifert will target London first. Not only does Seifert have cash in hand for a hostile bid, but he could easily raise more through loans and bonds. "That means he could do through brute financial force what he failed to do through negotiation," frets an official at another stock exchange. Shares in the LSE jumped 10% immediately after DB was floated.
MISGIVINGS. Seifert would still like a merger or some form of cooperation with the LSE, where new CEO Clara Furse started work on Feb. 5. There are some powerful reins on Seifert, though. An LSE bylaw restricts anyone from owning more than 4.9%. Besides, members of DB's supervisory board, notably Chairman Rolf-E. Breuer (also CEO of Deutsche Bank, the exchange's largest shareholder), seem cool to the notion. "It's not the only alternative," Breuer says.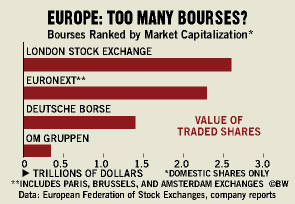 It seems more likely that Seifert, who says he's "brimming with good ideas," will use his new capital to expand the existing organization or make acquisitions in other areas, such as clearing and settlement. The Borse already owns 50% of Clearstream, the Luxembourg-based clearing system. Seifert could now make a bid for the London Clearing House or Brussels-based Euroclear. Merging either or both with Clearstream would rationalize Europe's securities clearing systems, cut cross-border dealing costs, and attract more business.
One concern is that Seifert will try to do too much, too soon to prove himself to investors who are looking for an early return. Another worry is that Deutsche Borse's expansion is coming just as falling stock market volatility and a slower IPO market reduce exchange revenues.
But Seifert insists he'll be deliberate: "Investors have made it very clear to us they're patient." Now he can afford to wait.
Before it's here, it's on the Bloomberg Terminal.
LEARN MORE