Caracas Is Clearing Its Peddlers...But Will It Take Aim At Pirates?
Christina Hoag
Luis Romero's ruddy, freckled face and arms tell it all. Every day, he stakes out a spot on Caracas' crowded, sun-beaten sidewalks and hawks everything from Pokemon toys to Sebago sports shirts. Recently, he was peddling books--badly printed Spanish-language copies of Spencer Johnson's Who Moved My Cheese? and The Knight in Rusty Armor by Robert Fisher. "They're selling pretty well," he says. "About 10 to 12 copies a day, 20 on Saturdays." Romero makes a profit of $2.86 on each book (which he sells for $3 less than retail)--much better money than he made assembling lamps, a factory job he quit five years ago because the minimum-wage salary of $150 a month didn't pay the bills. "Now I make enough money to cover expenses, put some aside for emergencies, like if a kid needs medicine, and buy more merchandise for the next week," he explains.
The 35-year-old father of two has lots of company. Caracas' sidewalks provide a workplace for more than 9,000 peddlers, the most visible sign of Venezuela's swelling "informal" economy. During the last quarter of 2000, underground workers made up 53.6% of the labor force, up 1.1% in just six months. Formal jobs are scarce--current joblessness stands at 12.1%, down from 14% a year ago, but the government counts informal workers as employed--and don't pay a living wage. The problem is especially acute in the capital, ranked as one of Latin America's most costly cities, with basic monthly goods and services for a family of four estimated at $900. The minimum wage since May: $200.
The street sellers, known locally as buhoneros, have long proven a headache for municipal officials and merchants, but during the past Christmas season, the problem reached crisis proportions. A record 56,000 peddlers clogged Caracas' thoroughfares. Unable to traverse sidewalks, pedestrians took to the streets, creating traffic jams. Infuriated merchants charged that peddlers drove away customers and created public-health hazards. Sporadic police attempts to sweep them off the streets proved ineffectual. "Every day, I was fighting to keep my storefront clear. Every morning, there was a mountain of garbage on the doorstep," says Carlos Gil, manager of the Gran Via leather shop in the Sabana Grande district. "It was chaos."
A BAND-AID? Caracas officials believe they've come up with a solution: Give the buhoneros a place to call their own. The city is planning to relocate them by September to 12 of its indoor municipal markets. The dingy bazaars will be expanded and renovated, and will feature recreational attractions and cultural events designed to lure shoppers away from Caracas' sleek new suburban malls and supermarkets. "The goal is to take these people out of informality and return the plazas and boulevards to the citizens of Caracas," says Ruben Alayon, a member of the mayor's Social Economy Commission.
Both buhoneros and merchants like the idea. Even the national tax-collection agency is enthusiastic--it wants to make peddlers pay sales taxes. But officials acknowledge the $25 million plan, which will be paid for by a bond issue, could turn out to be just a Band-Aid. Says Alayon: "We've won the battle for now. But if the economy doesn't generate more jobs, we're going to have more people on the streets again."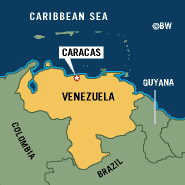 For big business, buhoneros pose a different problem: Their stands are heavily stocked with bootleg copies of trendy products. Peddlers flog everything from fake Barbie-doll clothes to watered-down French perfumes to cloned Cohiba cigars, not to mention the ubiquitous designer clothing and sneakers. The most egregious pirates, however, churn out CDs and music and video cassettes. Industry sources say pirated music grabs 75% of the Venezuelan market, and videos an astounding 90%--owing largely to official inaction, despite pressure from companies. "This is all sold openly on the street. People don't even know it's illicit!" fumes Antonio D'Jesus, legal adviser to the Venezuelan Intellectual Property Protection Assn.
Faced with inefficient, underfunded government agencies, the association has donated computers and hired detectives to build cases against cloning rings. Police have made some arrests, but, says D'Jesus, the administration of populist President Hugo Chavez has shown little desire to crack down on something directly affecting the livelihoods of the poor. "These people throw themselves into the street to survive. We can't abandon them," says Alayon. That attitude won't help Venezuela attract the investment needed to create real jobs.
Before it's here, it's on the Bloomberg Terminal.
LEARN MORE