A Wine Region Waiting To Ripen
Paul Starobin
Yum. I'm at a roadside food market, in the heart of the Georgian wine country, munching on something I have never tasted and can't even pronounce: churchkhela. It's a gummy sweet that looks like a purple sausage, made by stringing walnuts on a thread and dipping the line into a batch of boiled grape skins. And it's just one of many inventive things Georgians do with grapes. The most marvelous, of course, is the making of wine itself, a tradition that archeologists say may go back as far as 7000 BC, thus giving Georgia a claim to having the oldest viticulture in the world.
Modern times, though, have not been so kind to the Georgian wine tradition. For nearly seven decades, Georgia was a republic of the Soviet Union, winning its independence only when the Communist empire collapsed in 1991. During this period, Georgia's wine sector was converted into the kind of mass-production industry at which the Soviet system, in its own crude way, excelled. Nails, shoes, alcoholic beverages--they were all made in abundance, without much attention to quality. Comrades united in drinking cheap Georgian wine partly because little else was available and also because it was a favorite of Georgia's most famous son, Joseph Stalin.
The challenge for post-communist Georgia, a nation of 5.4 million, is to turn its wine into a quality export that can compete with the table wines of Spain, Italy, and France and someday yield an award-winning vintage. But as I learned on a recent three-day visit, there's a long way to go before Georgia can consistently produce the rival of a typical Chianti, much less a noble St. Emilion. The problem is an economy and political culture that are still dysfunctional 10 years after Soviet rule. The banking system barely works, depriving businesses of credit, and corruption is pervasive, with widespread counterfeiting of products including wine.
Georgian President Eduard Shevardnadze, a hero in the West for his role in hastening the dissolution of the Soviet Union, has not managed to ensure the supply of such basic services as electricity, which suffers chronic shutoffs even in the capital, Tbilisi. The $3-billion-a-year national economy shrank last year by 0.2%--in the midst of positive growth registered by every other former Soviet republic. One difficulty is that Georgia remains dependent on a sometimes-recalcitrant Russia for energy supplies. Also contributing to the poor investment environment are baksheesh-hungry tax and customs inspectors and harsh licensing requirements.
VINTAGE APPARATCHIKS. Georgia's wine industry is a microcosm of these ills. Wineries typically produce only 15% as much as they did during the Soviet period, and some are idle altogether. Their owners are mostly "Red directors" who ran the plants during the Soviet period and obtained control of them in privatizations in the early 1990s. They still prize quantity over quality. They would be thrilled to sell their stakes at a sweet profit to the trickle of foreign investors who wander by--but there's little interest, at least at the prices the owners have in mind.
I flew from Moscow down to Georgia with Preston Haskell, a native of Jacksonville, Fla., now a Moscow-based real-estate developer who dreams one day of owning a Georgian winery. That dream will be on hold for awhile. We toured, among other plants, the Vashnadziani factory, located in the fertile Gurjaani region, an hour's drive east of Tbilisi. The setting was majestic: To the north rose the snow-capped Caucasus mountains, which divide Georgia from the breakaway Russian republic of Chechnya--the frontier was close enough for Gurjaani denizens to hear Russian aircraft strafing Chechen guerrilla camps. The wine, a fruity red fermented in large clay vats set into the floor and left to bubble in the open air for a few months--a typical Georgian method--did not taste bad, either. But Haskell blanched when Manager Cezmani Tcatcabashvili, 60--a Red director--said shareholders (himself included) wanted $1 million for the place, which has produced virtually no wine for two years. It's also in need of a top-to-bottom modernization to make anything worth drinking. "There's a wonderful history here," Haskell later told me, "but I would like to see a more stable political situation, and I would definitely like to see a clearer understanding of those selling the wine factories that their value is very little. I think the buyer's market is in one or two years' time, when Georgia is flat on its back."
UNCLE JOE'S FAVORITE. There is one bright spot on the horizon: Georgian Wine & Spirits, a joint venture launched by a group of local entrepreneurs with the backing of France-based Groupe Pernod Ricard. At its flagship Telavi plant, a $5 million investment, the owners are fermenting and bottling a mix of wines affixed with the GWS stamp: dry, semi-dry, and semi-sweet reds, as well as light whites. The immediate target market is Russia and other former Soviet lands, since Western European and American palates are more used to Western bouquets, and training them to accept Georgian wines--perceived as exotic--is a long-term project. Offerings include a new version of a wine Stalin is said to have favored: Kindzmarauli, a semi-sweet red made from Saperavi grapes from the slopes of the Caucasus in the town of Kvareli. We drove there as the sun was setting and flagged down an elderly, mustachioed villager, protected by a chained and snarling dog. Shalva Kapianidze, 70, confirmed the local link to the Kremlin boss. "Everyone knows Kvareli served Stalin," he said. "We have the highest quality grapes."
Quality may be less of an issue than provenance in marketing Georgian wines. GWS research shows that sales of its product lines lag because of justifiable suspicion that any bottle marked Georgian wine could just as easily be adulterated grape juice produced in Hungary or Moldova, to name two of the most popular havens for counterfeiters. And there are plenty of fraudulent operators in Georgia, too. GWS is lobbying Tbilisi for the establishment of a national regulatory agency, such as exists in France, to set unimpeachable standards for wine production. "Without that kind of body, it will be very difficult to give consumers confidence," Philippe Coutin, general manager for Pernod Ricard's Moscow office, told me. So why can't this be accomplished? Coutin shrugged. "Maybe the counterfeiters don't see this as in their interest."
Georgia is a place to root for, its nostalgia for the tyrannical Stalin notwithstanding. The country is remarkable not just for the beauty of its mountains but for the hospitality of its people, descended from non-Slavic Middle Eastern tribes. Wine drinking is often accompanied by long tales spun by a tamada or toastmaster whose station, in this Orthodox Christian country, is as hallowed as that of a priest; the imbibing is part of a social rite celebrating all bounties of nature.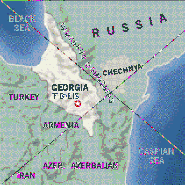 LIQUID ASSETS. The point is not to get plastered but to bond. The tradition continues: During my trip, I raised my glass to a dizzying variety of toasts by a procession of tamadas, including an ex-KGB agent-turned-businessman. For despite the wineries' problems, locals still make sufficient wine for their own consumption. As they always have: Even during Soviet times, wineries obtained most of their grapes from peasant farmers who were ever careful to husband stores of their own. With today's Georgian currency, the lari, widely viewed as unstable, even now payments are often made in home-brewed wine.
As the toastmaster at our final feast declared, Georgians seek sustenance in wine in the best---and worst--of times. With that, we sat down to eat in the mountain-top home of Gulraani Governor George Sibasnvili. The food, the company, the wine--a locally made white served in jugs--more than made up for the lack of electricity and heat. A toast: To the prospects of the Georgian wine industry.
Before it's here, it's on the Bloomberg Terminal.
LEARN MORE