A Deere Heart For Ingersoll
by
Deere is on the prowl for acquisitions to transform itself into a global diversified industrial company. It's now close to buying certain assets of Ingersoll-Rand to complement its restructuring plans, says an industry source privy to what assets or businesses Deere (DE) is stalking.
Chairman and CEO Robert Lane hasn't made a secret of his goal to make Deere much more than the world's largest maker of farm equipment. In a recent letter to shareholders, he says Deere will attract future customers with such distinctly new products and services as machines that can gather, integrate, and use information as they work.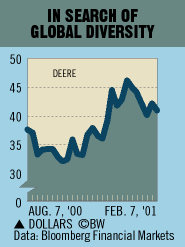 "Deere is repositioning itself to become another Tyco International," says one industrialist familiar with Deere's acquisition plans. The businesses it wants to buy from Ingersoll include such units as Bobcat forklifts, Club Car golf carts and utility vehicles, and the industrial and construction equipment. One banker says the deal would be worth $2 billion. Ingersoll, one of the world's leading industrial equipment makers, declined comment. Deere didn't return calls.
Deere's stock has been in an upswing since mid-September, when it traded at 31. It shot to 47 by the end of December. But concern about the economy has pushed the stock back to 42.
John McGinty of Credit Suisse First Boston, who rates Deere a "buy," expects earnings will climb to $2.80 a share, vs. the consensus First Call estimate of $2.55. His 12-month target: 55.
Before it's here, it's on the Bloomberg Terminal.
LEARN MORE