Shareholders betting on a turnaround at Boston Scientific (BSX) are fast losing heart. The leading maker of minimally invasive medical devices for the heart reported on Feb. 6 another batch of unwelcome news: Fourth-quarter profits fell 19% as it lost market share in its core product, coronary stents, to rivals. One gleam of hope: growing prospects that a larger medical device maker will buy Boston Scientific, whose stock has popped to nearly 16 a share, from 12 in early January, largely on takeover rumors. It traded as high as 29 last year.
The company's share of the U.S. market for stents, or metal mesh tubes used in keeping cleared arteries open after angioplasty, fell to 16% in the fourth quarter from 25% a year earlier. Rivals such as Johnson & Johnson and Medtronic have introduced new stents. Boston Scientific, which has a 20% stake in its primary stent supplier, Medinol, has been trying to buy the Israeli company to lower its expenses.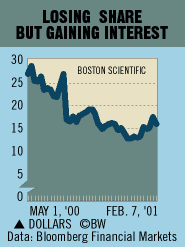 Industry sources say J&J and Medtronic are possible suitors. But Abbott Laboratories would have maximum synergy, says Kevin Kotler of ING Barings. A major drugmaker and maker of hospital and lab products, Abbott used to be a big investor in Boston Scientific. It sold its stake when Boston Scientific went public in 1992. Kotler thinks Abbott is the more likely buyer because it needs to build up its medical device business, including cardiovascular products.
J&J already is a giant player in the market for minimally invasive products. Ditto for Medtronic, the world's largest maker of implantable biomedical devices. Takeover investors think Boston Scientific has become even more attractive with its lagging shares--and the possibility that its Medinol bid might succeed. Kotler figures in a buyout the company could be worth 25 to 35 a share. Any deal needs the blessing of founders John Abele and Peter Nicholas, who own 40%. J&J, declined comment. Boston, Medtronic, and Abbott didn't return calls.
Before it's here, it's on the Bloomberg Terminal.
LEARN MORE