St Microelectronics: From Niche To Goliath
How the Swiss company outpaces its rivals
by
Chipmakers from Silicon Valley to Toyko are feeling the pain. Sales have plummeted as personal-computer growth slows and inventories mount. Yet escaping the sudden fourth-quarter industry slump, Europe's STMicroelectronics ended the year, well, in the chips. On Jan. 25, Chief Executive Pasquale Pistorio announced that revenues grew 48.3% in the fourth quarter, while net profit jumped 151%. For the full year, ST's sales--powered by chip sets for mobile phones, set-top boxes, smart cards, and flash memories--grew 55%, nearly double the industry average. The $7.8 billion company jumped two notches, to a No. 7 rank worldwide, according to a preliminary forecast by San Jose (Calif.)-based market researcher Dataquest Gartner.
It's hardly the first time Sicilian-born Pistorio has outpaced his rivals. Over the past decade, the 65-year-old former Motorola Inc. executive has racked up one of the most successful track records in the global semiconductor industry and transformed ST into one of the top technology companies in Europe. Now, for the first time since the dawn of the electronics era, a European chipmaker is in the industry's elite inner circle, with the required size and research and development muscle to battle for industry leadership. "Pasquale has driven the company from almost nowhere to one of the top 10 semiconductor companies. It's a top performance," says Ulrich Schumacher, chief executive of German chipmaker Infineon Technologies.
A GOOD BET. Pistorio has defied the odds by betting big a decade ago on all manner of digital gizmos, from cellular phones to TV set-top boxes and smart cards, believing they would one day outpace PC growth. It was no sure-win strategy. During the 1980s, U.S. and Japanese companies dominated the industry by selling microprocessors and memory chips for the booming PC market, relegating the Europeans to the sidelines. Few industry giants fretted about Geneva-based ST--13,000 kilometers from Silicon Valley--as it invested heavily in so-called systems on a chip, which pack processors, memory, and analog functions on a single sliver of silicon.
Smart bet. Analysts figure sales of chips used in PCs will actually decline by 5% this year, to about $94 billion, while the communications, automotive, and consumer-electronics markets ST serves will surge 20%, to more than $100 billion. "ST is in the sweet spot," says Peter Knox, a semiconductor analyst at Commerzbank in London. "The industry macroeconomics are playing into their hands." Though the company warned on Jan. 25 that its first-half sales could be bruised by the U.S. economic slowdown and a glut of chip inventory around the world, analysts still figure it'll top $9.7 billion in revenues this year, up 26%. That's more than three times the growth rate forecast for the industry as a whole. "Our ambition is to be world leader," says Pistorio. "I will be disappointed if we do not make it into the top three."
ST has a shot at jumping a few more notches. The gradual shift away from the era of the personal computer is likely to hamper the growth of many U.S. and Japanese semiconductor makers that sell standard memories and microprocessors, while boosting the sales of chipmakers with integrated chips designed for special applications, such as ST. Putting an entire microelectronic system on a chip is a specialized skill not easily matched by companies like Samsung that are built for high-volume production of standard, or so-called commodity, chips.
ST has spent a decade building up a library of intellectual property and perfected the art of welding the building blocks into combo chips designed to the precise specifications of customers or industries. "ST is the absolute leader in system-on-a-chip technology," says Josh Fisher, director of Hewlett-Packard Laboratories in Cambridge, Mass. HP selected ST in 1995 as a strategic partner to develop a new generation of powerful microprocessors for a variety of digital applications that are now nearing market launch. "ST is positioned as well as Intel or Microsoft were in the 1980s for a decade of super-heated growth," says Fisher.
ALLIES. Tight strategic alliances with customers such as Nokia, Nortel, and HP will help keep ST's better-than-industry growth going forward. Pistorio was among the first in the industry in 1983 to pioneer R&D alliances. "Alliances are in our DNA," he says. ST has collaborated for years with the companies driving the digital wireless, networking, and digital consumer revolutions.
Cell-phone giant Nokia, for example, approached ST in 1989 seeking to integrate power supply and energy management on one chip in order to give Nokia phones longer battery life. ST's new chip tripled standby time to 60 hours--a breakthrough battery life at the time that gave Nokia a notable edge. Their collaboration grew and Nokia is now ST's largest customer, accounting for some 12% of sales. "They've gone the extra 10 miles for us," says Pertti Korhonen, senior vice-president in charge of global operations, logistics and sourcing at Nokia.
The challenge will be keeping market share as competition intensifies in the new digital technologies. While ST's broad product mix has had its benefits, diversity could also have a downside as new rivals, such as Broadcom Corp., bite into ST's key markets for set-top boxes and other devices. And ST is not the only player with system expertise. Texas Instruments, LSI Logic, Toshiba, and Analog Devices all boast strong system skills and are building chips for the telecom, network, and digital-appliance companies. Meanwhile, heavyweights such as Intel and NEC Corp. are now targeting the industry's sweet spot. To reach Pistorio's goal of 5% of world market share by 2007, ST will have to outperform them all. "Until now, ST has been able to spot the next growth area a little ahead of the competition," says Joe D'Elia, head of the semiconductor group at Dataquest Gartner. "To remain successful, they have to continue to do that."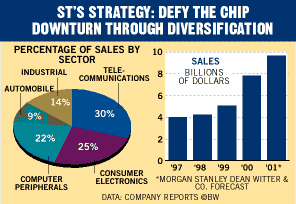 Succession is another key challenge. A charismatic leader who inspires strong corporate loyalty, Pistorio has one of the lowest rates of management turnover in the industry--a factor analysts say has contributed to the company's exceptional performance. Since the merger in 1987, only six of the top 350 managers have quit. That said, "the company has yet to put a credible succession strategy in place," says D'Elia. Few worry about a serious setback when the handover comes. ST has a deep management bench and attracts Europe's most talented engineers. But there's no question that Pistorio will be a tough act to follow.
Before it's here, it's on the Bloomberg Terminal.
LEARN MORE