Nuclear Power Puts A Glow On Exelon
by
Little-known Big Board stock Exelon (EXC) is a novel way to play the energy crisis--which is being fueled in part by the high price of natural gas. Exelon stock exploded from 42 in July to 71 on Dec. 27. It has since pulled back to 60--a fine entry point, say some pros, for a stock they see at 80 in a year.
Exelon, which generates and markets energy, was formed through the merger in October of Philadelphia's Peco Energy and Unicom, which provides electricity to 3.5 million Chicago customers.
"The kicker in Exelon is that it owns and operates, through Unicom, the largest network of nuclear plants in the U.S.," says Stephen Leeb, editor of Personal Finance. Exelon's nuclear installations, which generate electricity at one-third the cost of using natural gas, aren't yet fully reflected in the stock price, says Leeb.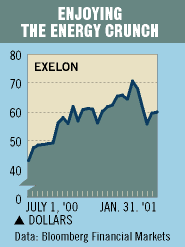 Steven Fleishman of Merrill Lynch, who rates Exelon a buy, says Exelon's 17,000-megawatt nuclear capability "looks like a gold mine"--with natural gas prices much higher than a year ago. Exelon, he says, can achieve internal growth from its nuclear energy by upping capacity at low cost. Exelon co-CEO John Rowe says its nuclear plants helped ensure a reliable supply of electricity in a period of record demand.
Paul Patterson of Credit Suisse First Boston rates Exelon a buy because he thinks it could become one of the preeminent power companies in North America, with its size and scope.
At 12.7 times 2001's estimated earnings per share of $4.70 and 10.9 times 2002's $5.50, Exelon is cheap, says Leeb. His 18-month target: 100.
Before it's here, it's on the Bloomberg Terminal.
LEARN MORE