For Leo Kirch, A Grand Prix, Indeed
The German media mogul makes a risky grab for Formula One TV gold
Jack Ewing
Most Germans thought the Formula One season ended in October, when Michael Schumacher won the Malaysian Grand Prix and took the championship for Ferrari. But in Munich, the dealmakers are still burning rubber. German media kingpin Leo Kirch, who controls a number of programming and broadcast companies, is trying to clinch an agreement with beleaguered media company EM.TV & Merchandising that would grant him worldwide TV rights to the lucrative auto races. By all appearances, Kirch wants a deal badly: Formula One races regularly attract 350 million viewers worldwide--just the kind of spectacle Kirch needs to salvage his dream of a lucrative German pay-TV franchise. "Formula One is a golden nugget," enthuses Hubert Burda, the Munich magazine magnate who knows both Kirch and EM.TV CEO Thomas Haffa.
But Kirch's plan may put him on a collision course with auto makers, Formula One sponsors, and rival broadcasters, who fear Kirch would try to cut back free broadcasts of the races to push viewers to his Germany pay-TV network. And in the worst case, failure could cost him control of his KirchPayTV. Rupert Murdoch's British Sky Broadcasting Group PLC, which owns 22% of KirchPayTV and has provided financial backing, in effect has an option to demand its money back if the network doesn't hit a series of undisclosed financial targets. If Kirch can't pay, BSkyB can take over KirchPayTV. Murdoch could get the European TV property he has sought--and inflict a sharp setback to Kirch. Kirch Group says that won't happen, since both parties have an interest in running the venture jointly.
PROFIT DROUGHT. Kirch's planned deal with EM.TV calls for Kirch to pay $550 million for 49% of EM.TV's 50% stake in SLEC, the company that owns the broadcast rights to Formula One worldwide. Formula One chief Bernie Ecclestone owns the other half of SLEC. Kirch, meanwhile, has struggled for years to make a profit in pay TV. The venture has burned through one management team after another and will have cost at least $3 billion by the time it's projected to break even in 2003. Instead of having 2.9 million subscribers at the end of 2000 as predicted, KirchPayTV had closer to 2.2 million.
The losses have obliged Kirch to seek backing from Murdoch. For now, at least, BSkyB is being supportive. "We went through a tough time, too, at the beginning," says BSkyB CEO Anthony Ball. He sees a turnaround soon. "Formula One could be the driver," Ball says.
That's just what sponsors are afraid of. Companies like chipmaker Infineon Technologies pay big bucks to plaster their logos on Formula One cars and want maximum viewership. They don't want Kirch cutting back on free broadcasts of the races. Sponsors and auto makers are already unhappy that Formula One earns less than an estimated $400 million from TV. "It seems strange that, for a business which reaches more people over four years than the Olympics, Formula One takes in so little," says a sponsor's agent based outside of Germany. So carmakers want more control. DaimlerChrysler management board member Jurgen Hubbert says the car companies are set to take a "substantial" stake in Formula One.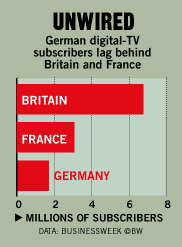 For now, EM.TV is negotiating exclusively with Kirch. However, EM.TV insiders know about other possible bids, including one from Germany's Tele Munchen Group, a Kirch rival: "The [negotiating agreement] doesn't prevent us from opening our mail," says one EM.TV insider. With profits withering, EM.TV has to sell its Formula One stake to the highest bidder. Another glitch is that EM.TV is contractually obligated to buy an additional 25% of SLEC for nearly $1 billion. EM.TV doesn't have that kind of money, and Kirch would share the obligation if the two companies unite. This is turning out to be one expensive race.