Commentary: Outsourcing Alone Won't Save Nokia's Rivals
by
Funny it took them so long. Years after the auto and computer industries shipped out much of their factory work, mobile-phone makers stuck to piecing together handsets in company-owned plants from Stockholm to Harvard, Ill. Now their old-fashioned ways are rapidly ending.
Battered by Finland's Nokia, Sweden's Ericsson threw in the towel, announcing on Jan. 26 that it was abandoning manufacturing. It turned the works--including six factories and 4,200 workers--over to contract manufacturer Flextronics International Ltd. Ericsson's retreat came only a month after Motorola Inc. said it would outsource much of its production. Nokia says it, too, will boost its use of low-cost outsiders to 15% of its handset production. In fact, 80% of this work will be done by contract labor in a few years, predicts Flextronics CEO Michael E. Marks.
The cost-cutting couldn't come a moment too soon. An abrupt slowdown is on the way. Nokia Chairman Jorma Ollila predicted on Jan. 30 that phone sales, projected earlier to grow 30% in 2001, to 560 million units, may come in closer to 500 million.
LEVERAGE. But is shipping out manufacturing the best way to gird for rough times? Nokia insists it will keep most of its factory work in-house. Ollila maintains that producing its own phones constitutes one of Nokia's key advantages over its rivals. In fact, he's counting on Nokia's manufacturing edge to produce at the lowest costs in the industry, enabling the company to drive down prices. "We'll add to our share," he says, which now tops 30% of the global market.
So who's right, the outsourcing Swedes and Americans, or the do-it-yourself Finns? The answer may be both. To date, size has been Nokia's strength. With its explosive growth in the past two years, the company now towers over its rivals, producing more phones than No. 2 Motorola and No. 3 Ericsson combined. This gives Nokia a crucial edge in scale, along with leverage over suppliers, especially makers of computer chips that power these handsets.
Indeed, it is to take on this behemoth that Ericsson is in effect creating another manufacturing giant by allying with Flextronics. The $13 billion company, run from San Jose, Calif., may well become the other caller that chipmakers can't put on hold. "When it comes to scale, our partner is very, very big," points out Jan Ahrenbring, Ericsson's vice-president for marketing. Outsourcing should also go a long way in helping the laggards cut costs. Motorola's margins on phones have shrunk to a measly 3%. Ericsson's are even worse, posting a punishing yearend loss of $1.7 billion in its cell-phone unit. With the outsourcing deal, the Swedes "are looking for hundreds of millions of savings per year," says Marks.
UGLY PHONES. But outsourcing alone won't save the day. What's required in this market is snazzy design, powerful marketing and, above all, teams that can anticipate consumer tastes--skills that are glaringly absent at Motorola and Ericsson. And ominously, while they're handing off more assembly work, they're both continuing to do design, engineering, and marketing internally. "If they make ugly phones that no one wants, lower costs won't help much," asserts Tim Sheedy, a wireless analyst at International Data Corp.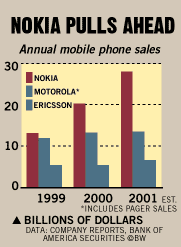 Still, nimble manufacturing has been a key to Nokia's success. The company, which was nearly bankrupt nine years ago, restructured for the global economy in the early '90s. "We didn't have factories in every country, like our competitors," says Ollila. Benefiting from streamlined design and manufacturing, Nokia produces two dozen new phones each year, a regimen rivals can't match.
But Nokia can't rest. Boutique manufacturers in Europe and America now envision disposable mobile phones with an hour of talk time to be sold for $10 in vending machines. When the cell phone, once a symbol of wealth and privilege, descends into the throwaway bin, even giants can't cut costs fast enough.
Before it's here, it's on the Bloomberg Terminal.
LEARN MORE