Amazon's Go Go Growth? Gone
Now it looks a lot more like a traditional retailer
Robert D. Hof
Ever since Jeffrey P. Bezos started Amazon.com Inc. in a suburban Seattle garage back in 1994, the e-tailer has defined the motto of the New Economy: Get big fast. Now, the hyperkinetic CEO has suddenly slammed on the brakes--raising troubling new questions about not only the Internet bellwether but also the ultimate potential of e-commerce itself.
In a stunning turnaround from its years of go-go growth, Amazon on Jan. 30 said sales growth this year will fall even more than analysts expected, to just 20% to 30%, or about $3.4 billion. That's a deep drop from the already disappointing 44% sales growth in the fourth quarter--and the 43% growth the company projected as recently as October. Even more disturbing, its core books, music, and video sales rose just 11% in the fourth quarter. As a result, Amazon will lay off up to 1,300 workers, or 15% of its staff, closing one of its 12 distribution centers, mothballing another until the 2001 holidays, and shuttering one of nine customer service centers.
Amid the gloomy news, Bezos finally answered one of the most persistent questions about Amazon: When will it make a profit? After years of refusing to provide a date for Amazon to turn an operating profit, Bezos circled one in thick black ink: Dec. 31, 2001. He didn't have much choice, says Mary G. Meeker, an analyst with Morgan Stanley Dean Witter. Without a firm date, she thinks remaining investors would have fled the stock--perhaps forcing Amazon to seek a buyout. Says Meeker: "They had to draw a line in the sand." Still, investors were hardly overjoyed. Amazon's stock fell 9%, to 17 5/16, on Jan. 31. It is down more than 80% from its Dec., 1999, high of 113.
Indeed, Bezos raised a lot more questions than he answered. With the unexpected slowdown in Amazon's business, investors not only question Bezos' forecast but his business model. Amazon raised billions on the promise that surging e-commerce demand would eventually produce returns far superior to those of traditional retailers, thanks to its centralized distribution and ease of reaching customers over the Web. But now it looks as if Bezos will have a tough time delivering either the magnitude of growth or the level of profits that investors have come to expect.
One harsh reality is not in question: Amazon, it turns out, faces many of the same challenges as traditional retailers. Its sales are now skewed heavily to the fourth quarter, a classic retailing conundrum. Some critical costs, meantime, have been rising. Incentives, such as free shipping, have been especially burdensome. Says Mark J. Rowen of Prudential Volpe Technology Group: "We're not convinced that Amazon is going to be able to grow revenues rapidly at the same time they improve the economics of the business."
Even more worrisome, Amazon had counted on sustained growth in e-commerce. The bet was to reap big economies of scale from the hundreds of millions of dollars it sank into fixed costs, such as distribution centers. But clearly, it overbuilt. Now, even longtime e-commerce boosters are questioning growth assumptions. Merrill Lynch & Co. analyst Henry Blodget, for one, wonders if e-commerce will ever capture more than 5% to 10% of all retailing revenue, not the 10% to 15% he had expected earlier.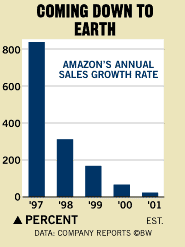 As the economy levels yet another whammy on Amazon, investors are casting a cold eye on Bezos' grand plan to make Amazon the place to buy almost anything. Bezos isn't backing away from that dream. Indeed, he's depending on new categories such as electronics and kitchen gear to restore growth--in some cases by allying with brick-and-mortar partners to handle merchandising and inventory, as it did with Toys `R' Us Inc. last year. But in a zero-growth economy--with brick-and-mortar rivals such as Wal-Mart Stores Inc. and Circuit City Stores Inc. now gaining ground online--that will prove tougher than ever.
Bezos is steadfastly optimistic. He points out that 35% of customers bought something other than media products in the fourth quarter. "A lot of the very best categories are on our Web site today, and there's a tremendous amount to add inside each category." But with growth stalling and little clarity over how profitable Amazon can eventually be, investors are nowhere near as upbeat.
Before it's here, it's on the Bloomberg Terminal.
LEARN MORE