Is Clorox (CLX) up for grabs? Value investor Mark Boyar thinks so. He has been buying shares--as Clorox tumbled from 47 in November to 33 on Jan. 31. The stock is way off its 1999 high of 66. "This great consumer franchise would make a good acquisition for one of the larger consumer-product companies," he argues.
A producer of washday and household-cleaning products such as Clorox bleach and Liquid Plumr, the company has a name that's almost a generic term. Clorox has 70% of the U.S. bleach market.
"But Clorox faces an uphill battle in the next couple of years," says analyst William Ferguson of Value Line. He notes that Clorox warned in December that earnings for the fiscal year ending June 30, 2001, would fall short of analysts' expectations. The stock's crash has depressed Clorox' price-earnings ratio to 17, down from 25 last year. Now analysts see the company earning $1.73 a share in 2001 and $1.88 in 2002.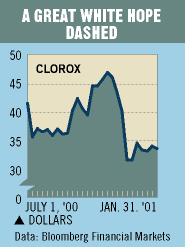 Although a recent rumor claims that Colgate-Palmolive or Procter & Gamble may be eyeing Clorox, HC Investments, which already owns 27% of Clorox, is said to be preparing to increase its stake--perhaps all the way to 100%, according to one New York money manager. HC is a U.S. unit of Henkel, a Dusseldorf maker of chemicals and household products. In past years, HC has bought Clorox on the open market. But its last known purchase was in December, 1999, when it bought a batch of 1.1 million shares at 49 to 52 apiece. That has fueled speculation that HC may have stopped buying because it is considering a buyout of Clorox. Henkel declined comment.
Boyar isn't ruling out Colgate or P&G as potential purchasers. "In a buyout, Clorox is worth 45 to 50 a share," says Boyar. Colgate and P&G wouldn't comment as a matter of policy.
Before it's here, it's on the Bloomberg Terminal.
LEARN MORE