A Prized Editor
Bill Kupper
This week, BusinessWeek Editor-in-Chief Stephen B. Shepard received the highest honor awarded by the magazine industry. The Henry Johnson Fisher Award, presented by the Magazine Publishers of America, recognizes those who have made significant, long-standing contributions to the industry and to society and who have demonstrated extraordinary leadership, skill, and understanding in support of the industry.
Steve joins a group that includes Dewitt Wallace, founder of The Reader's Digest; Henry R. Luce, cofounder of Time Inc.; publishers Walter H. Annenberg and S.I. Newhouse Jr.; Richard B. Stolley, the founding editor of People, and Ruth Whitney, the renowned former editor-in-chief of Glamour.
Steve has been editor-in-chief during what can only be described as the Golden Age of business journalism, sharing with readers a front-row seat at some of the great events of our time. Under Steve's leadership, BusinessWeek helped set the national agenda for business and economic issues, pioneered coverage of the New Economy, exposed the Mob on Wall Street, broke the story of prison labor in China, and won a key First Amendment victory in the Bankers Trust tapes case. Circulation has grown 40% during his tenure as editor-in-chief.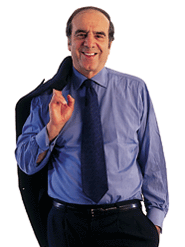 Since Steve took over, BusinessWeek has been a National Magazine Award finalist 18 times, winning four times. It has won numerous Overseas Press Club awards, three Gerald Loeb Awards for distinguished business and financial journalism, and many others. In 1999, Steve was inducted into the American Society of Magazine Editors Hall of Fame and received the Gerald R. Loeb Lifetime Achievement Award.
Steve would be the first to say that after his family, his greatest satisfaction, week after week, is to edit the magazine--some 800 issues since 1984. Thanks to him and his editorial team, we all benefit from the best reporting, the best analysis, and the best clues to the future.
Congratulations, Steve.
Before it's here, it's on the Bloomberg Terminal.
LEARN MORE