Who Do Mutual Fund Directors Work For?
They're supposed to serve investors. But Vanguard founder Bogle says sky-high pay can get in the way
Robert Barker
Rare is the professional meeting you could pay me to attend after hours. But I would've swapped front-row tickets to The Full Monty for an invite to cocktails on Jan. 11 at the Mutual Fund Directors Education Council Second Annual Policy Conference in Washington. Sounds deadly, huh?
It would have been, except that the speaker was Jack Bogle, the Molotov cocktail-throwing founder of Vanguard Group. And instead of some mildly interested civic or academic crowd, the listeners were the very targets of Bogle's most incendiary recent attacks: independent directors of mutual funds. These are the people the law charges with looking out for fundholders in setting fees and other dealings with the companies that contract to run the funds. "The watchdog--a word almost universally used to describe the role of the independent director--simply doesn't bark," Bogle told them.
I didn't hear this myself, but Bogle later sent me a copy of the speech. I also spoke with several people who did hear it, including former Securities & Exchange Commission Chairman David Ruder, now a Northwestern University law professor and the meeting's chair. Not everyone liked Bogle's message. Some didn't offer even polite applause, says investor advocate Mercer Bullard of Fund Democracy--"shame on them."
Unless you're in the fund biz, why should you care? Because funds aren't run as well as they should be--not by a long shot--and that costs us a ton of dough. As Bogle asked the independent directors to do, consider this: Even as equity fund assets have exploded since 1950 from $2.5 billion to $4 trillion, the average fund's annual cost as a percent of assets has jumped by two-thirds. By my math, fund companies are getting $16 billion more in fees, plus huge efficiencies from having more money under management. Yes, funds now offer more services. Yet "it is not fund shareholders who have enjoyed the staggering economies of scale," Bogle said. "It is the fund managers."
IN WHOSE INTEREST? For that, Bogle mostly blames the independent directors, some of them, he suspects, compromised by fees they earn. To make the point, Bogle showed what outside corporate directors are paid by five large, publicly held companies that manage mutual funds (chart). The average came to $47,000 a year. Next, he showed what the top-paid director of each of the fund complexes managed by those companies are paid. The average: $386,000. "Could these fund directors possibly be shouldering eight times the responsibility shouldered by their corporate counterparts?" Bogle asked. Instead, he suggested, "high fees are there to subtly encourage directors to act at the manager's behest."
Another word for it is bribery. Paul Roye, the SEC's top fund regulator, and one of his predecessors, Wilmer, Cutler & Pickering partner Marianne Smythe, disagree. They think Bogle used extreme examples, and they give directors more credit. "In the main, I don't think compensation is out of line," Roye told me. "Directors know whom they work for," Smythe says. "It's not the management company." Even if they're right, it's plain that directors must be more aggressive. Roye just released a report urging directors to "ensure that an appropriate portion of the cost savings from any available economies of scale is passed along to fund shareholders."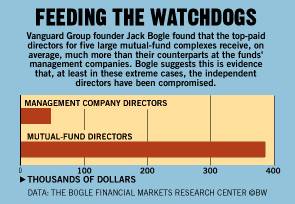 Besides jawboning, what will help? Ed Boudreau, an industry consultant and ex-head of John Hancock's funds group, told me directors need more than the "nuclear weapon" of yanking a fund manager's contract. Bullard thinks the law must raise the low level of fiduciary duty directors must meet. Bogle, after hammering away on these points for years, still thinks he has made only the merest dent. Now that they've heard directly from their sharpest critic, it's time for independent directors to prove him wrong.
Questions? Comments? Send an e-mail to barkerportfolio@businessweek.com or fax (321) 728-1711
Before it's here, it's on the Bloomberg Terminal.
LEARN MORE