Making Phones Ring In Asia
by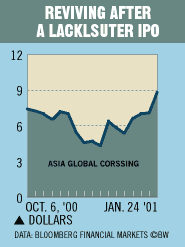 When Asia Global Crossing (AGCX) went public, on Oct. 6, 2000, it seemed like an untimely initial public offering--at 7 a share: The stock opened at 7 3/4 and then headed south, hitting 3 7/8 a month later. It has since advanced to more than 8. Asia Global is "an early telecom infrastructure play in Asia," says Lehman Brothers analyst Dan Fletcher. It sells undersea bandwidth capacity to telecom outfits such as WorldCom, Qwest, and British Telecom and to Internet giant America Online. Asia Global represents the transpacific assets of Global Crossing, a provider of Internet and long-distance telecom facilities using undersea digital fiber-optic cable systems. Global Crossing spun off Asia Global last year, retaining a 56% stake. Other major backers: Microsoft and Japan's Softbank. Each owns a 15% stake and has agreed to use Asia Global's network for all its service needs in Asia. Fletcher says demand for Asia Global's services is being fueled by the telecoms' need to support Web and telecom growth in Asia.
"AGCX is our top telecom pick for Asia," says Kathleen Boyle of Salomon Smith Barney. "It boasts an unparalleled network, a first-mover advantage, and explosive market potential." Her target for the stock: 20.
Before it's here, it's on the Bloomberg Terminal.
LEARN MORE