Japan's X League Runs With The Ball
Ken Belson
It's a scene many Americans associate with Super Bowl Sunday: Football players emerge from a stadium tunnel hollering, butting heads, and pounding shoulder pads. Stadium speakers blare pop anthems. An announcer introduces the players, who charge past lines of cheerleaders to midfield. The only difference is, this particular Sunday, the game is in Yokohama, the athletes play for Fujitsu Ltd. (FJTSY) and Nissan Motor Co. (NSANY), and the team captains bow before the coin toss.
Welcome to the X-League, Japan's showcase for corporate football heroes since 1971. The collection of 60 teams includes two U.S.-linked outfits--IBM Japan and Fuji Xerox Co.--a ladies club, and one from the National Police Agency. The league relies on corporate sponsors, who pool their money to rent stadiums and promote games. Those sponsors have kept the sport afloat, despite the game's relatively small fan base, competition from more popular sports, and now, corporate restructuring.
For all its obscurity, the X-League is well-organized. Teams in the four-tier league are split into east, west, and central divisions, with the best teams in the lower tiers challenging the worst in the upper tiers for promotion. The five-game regular season ends with three rounds of playoffs and the Tokyo Super Bowl. Asahi Soft Drinks Club Challengers won this year's title game, beating Matsushita Electric Works Impulse, 20-18. The Japanese also go the U.S. Super Bowl one better: The top corporate team faces the college champion in--you guessed it--the Rice Bowl. This year, Asahi clobbered the Hosei University Tomahawks, 52-13.
REFRESHING. I missed that game, but made it to several earlier autumnal playoff battles, including one between the Fujitsu Frontiers and the Nissan Prince Tokyo Skyliners. Fujitsu, boasting an undefeated regular-season record, made the playoffs for the first time since 1992. Some 5,000 fans sprinkled the 50,000-seat Yokohama Stadium on a blustery November afternoon. The Fujitsu faithful were not disappointed. The Frontiers spotted Nissan a touchdown before scoring four times to win, 24-7.
The game was a blast, not unlike a high-school match in the U.S., where the fans are friends and family of the athletes. When Fujitsu took on Nissan Prince, Machiko Otani exulted as her son-in-law played wide receiver and her daughter raced up and down the sideline with pom-poms. Nearby, 33-year-old Shinichi Okubo huddled out of the wind with his wife and 2-year-old daughter. Okubo played linebacker for Nissan before retiring from the game in 1998. "I still want to play, but it would be hard on my body," Okubo said, a look of sadness on his face.
Such contests are also a refreshing change from U.S. games plagued by screaming announcers, dozens of commercial time-outs, and growing violence on and off the field. The game I saw included just one injury time-out, no replays of disputed calls, and only a handful of penalties. Fujitsu's co-captain, Takashi Uehara, used the loudspeaker system to thank the audience after the victory, while players swapped high-fives with cheerleaders and fans.
Despite the enthusiasm that has increased football's popularity in recent years, the sport remains low-profile compared with baseball, sumo, and soccer. Few high schools field a team. On the face of it, football is one of those American imports that makes little sense. The sport requires huge amounts of equipment and big fields in a country short on space. At its heart, American football is about bashing bodies and taking off a quarterback's head, hardly what you expect in mild-mannered Japan.
LOW PROFILE. But these differences also explain why a core band of enthusiasts loves the game. For them, football represents the combination of power and precision missing in many Japanese team sports. In fact, Japan had no group sports before baseball arrived with the Americans in the 19th century. That game took hold because it meshed easily with the Japanese fondness for group activity and respect for authority. But baseball lacks the grit found in another pastime, martial arts. Football is able to blend that grit with the precision and teamwork of baseball.
Football first took hold in 1934 when Paul Rusch, an American teaching in Japan, cobbled together teams at three Tokyo universities. The games were an instant hit and soon drew crowds of 25,000 spectators. After World War II, the games resumed, and the corporate league was started in 1971. In 1984, the Rice Bowl was born. That game's MVP wins the Paul Rusch Cup in honor of "the father of Japanese football."
What Rusch probably didn't anticipate was how the Japanese would alter the game. Uncompensated corporate players practice all year and take the game very seriously, studying game tapes just like the pros. Cheerleaders work on their routines three times a week, pick the music for each game, and take ballet and jazz dance lessons. "You stop when you run out of energy," says Yuko Kamiya.
"The Japanese take football to a new level," says Robert Whiting, a longtime resident of Japan and author of several books on Japanese baseball. "Coaches have total control, quarterbacks never call their own plays...."
Cheerleaders, too, bring their own flavor to the event. They shout "de-fense" endlessly into megaphones, even after their team has given up a touchdown. They also hold up placards that spell "T-O-U-C-H-D-O-W-N" and "K-I-C-K-A-S-S."
It's the American connection that appeals to Japan's youngsters. Many now follow National Football League games, since Japanese networks broadcast Monday Night Football (without commercials!), and air the Super Bowl live. There's even an American Football Hall of Fame in Yamanashi, two hours from Tokyo.
Businessmen, who see football-mad teens as a ripe market, figure sponsoring a football team amounts to cheap advertising. For an average annual investment of $350,000, a team ensures that a company's name is in sports pages during the season, which promotes brand recognition and helps to attract college grads to the company.
SACRIFICE. Yet even $350,000 can be a big investment for a company recovering from Japan's worst postwar recession. So, many firms are seeking co-sponsors. Another recession-linked difference is that, as jobs become less secure, fewer employees are willing to sacrifice personal time for their employer.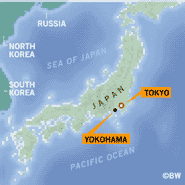 Football isn't the only sport under pressure. In the past few months, several big companies have scuttled volleyball teams to save money. Football's X-League is on firmer ground because it benefits from publicity surrounding televised American games--such as the Jan. 28 Super Bowl contest between the New York Giants and the Baltimore Ravens--but there are signs it too may have seen better days. More than 50,000 fans attended the Tokyo Super Bowl in the booming 1980s; now the match draws half as many. Still, the sport seems likely to survive, if only as a novelty--like a Cadillac on a back street in Tokyo.
Before it's here, it's on the Bloomberg Terminal.
LEARN MORE