It May Be Prilosec Time For Andrx
by
For a little-known pharmaceutical house, Andrx (ADRX) has attracted a lot of big-name investors, including Janus Capital, with an 8% stake; TCW Group, with 5%; and Fidelity Management, with 3.4%. "Andrx has exciting products that target huge markets," says Merrill Lynch analyst Gregory Gilbert. Andrx formulates controlled-release oral medicines, including generic versions of brand-name products such as Prilosec, the largest-selling drug, with sales topping $4 billion in 2000. Prilosec treats stomach ulcers and heartburn.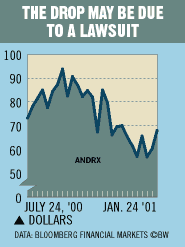 "Andrx' generic Prilosec is what will drive its stock," argues Gilbert, who says Andrx' revenues could triple or even quadruple in just a year after launching its generic Prilosec. The stock has been volatile, swinging from 70 in August to 95 in September. It's currently at 68. One reason for the zigzagging: AstraZeneca, which owns Prilosec, has filed a patent-infringement suit against Andrx, which is now pending in court. "The lawsuit gives the stock a high-risk, high-reward aspect, but the Street is betting that Andrx will win," says Gilbert. If all goes well at Andrx, he says, generic Prilosec will be launched in April, 2002, "and we could see the stock hitting 100." He figures generic Prilosec alone will produce sales of $362 million in 2002.
Analyst Andrew Forman at UBS Warburg sees Andrx earning $1.26 a share on sales of $678 million in 2001, and $4 on sales of $1.2 billion in 2002, including generic Prilosec sales. His target for the stock: 120 in 12 months.
Before it's here, it's on the Bloomberg Terminal.
LEARN MORE