For Mexico's Fox, Will Haste Make Waste?
Mexico's new leader may be taking on too much too quickly
Geri Smith
Inauguration day has come and gone, but Vicente Fox still doesn't have a place to call home. The presidential palace is being refurbished, so Mexico's new chief executive has been bunking at a hotel in downtown Mexico City. But it's hard to imagine that Fox is getting much sleep. Although he has been in office less than two months, already he has won a budget battle, made peace overtures to the Zapatista rebels, and launched the sales pitch for a controversial tax reform. Fox looks tired but content. "We're very optimistic with the way things are going," he says.
Judging from Fox's 85% approval rating, an overwhelming majority of Mexicans is also satisfied with their President's performance so far. Still, Fox's honeymoon with voters may be shorter than anyone had anticipated. Booting out the long-ruling Institutional Revolutionary Party (PRI) in July's elections was just the first in a series of challenges facing the 58-year-old political maverick. The new President will have his hands full delivering on his many campaign promises, which include creating 1.3 million new jobs a year and cracking down hard on corruption.
Indeed, just hours before sitting down to an interview with BusinessWeek, the President learned that one of Mexico's most notorious drug lords had bribed his way out of prison. "These two months have confronted him with the economic, political, and criminal realities of this country, and he's seeing that it's all much more complicated to resolve than he thought," says political analyst Jose Antonio Crespo.
"COLD WATER." To make matters even more difficult, Mexico's economy is poised for a slowdown as U.S. demand for the country's exports slackens. Growth was a blistering 7.2% last year, but officials expect it to cool to 4.5% in 2001. Independent analysts predict it could fall below 3%. "It's not a catastrophic scenario, but it is like a bucket of cold water," says Mauricio Gonzalez, head of Grupo de Economistas y Asociados, a Mexico City consultancy. The new reality could force Fox to scale back an ambitious policy agenda.
For now, though, he's charging ahead. After speaking at the World Economic Forum in Davos, Fox is bound for Frankfurt and Milan, where he plans to sell investors on Mexico's eight-month-old free-trade agreement with the European Union. On Feb. 16, Fox will meet with U.S. President George W. Bush at his family's ranch in Guanajuato state to promote his long-term vision of a North American Common Market, complete with free movement of labor and a single currency.
TAX FIRESTORM. But even bigger tests await Fox in March. That's when leaders of the Zapatistas, peasant rebels from Chiapas state who have been in a seven-year standoff with the army, are due to arrive in Mexico City to demand approval of a 1996 peace agreement. Business leaders warn that the sight of the masked Subcommander Marcos marching into the capital could spook foreign investors. But Fox, who once boasted that he could solve the festering Chiapas conflict in just 15 minutes, has shrugged off their concerns.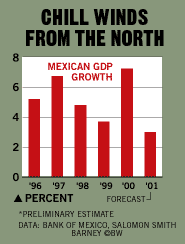 March is also the month in which Fox is to deliver his tax reform plan to an opposition-dominated Congress. Already, the government's proposal to extend the 15% value-added tax to food and medicines has ignited a political firestorm. Critics say it will hurt Mexico's 40 million poor. And business leaders fear that it will drive up inflation. Companies will also resist attempts to rid the tax code of myriad loopholes.
Yet most economists agree that Mexico needs a fiscal overhaul to boost tax collection, which at 11% of gross domestic product is one of the world's lowest. Fox is counting on the revenues to fund an assortment of social development programs.
The danger is that a feisty Congress will obstruct or greatly water down his proposals. This ambitious and charismatic politician could be over-reaching by pursuing too many initiatives at once. That's a tendency Fox's foes are more than eager to exploit.
Before it's here, it's on the Bloomberg Terminal.
LEARN MORE