Commentary: The New Economy's Cruel Math
Big spending on IT has made labor more vulnerable than ever
by
On the surface, the labor market looks as solid as ever. The December unemployment rate, released early in January, was only 4%, while the economy added more than 100,000 new jobs. Meanwhile, the Labor Dept. reported that initial claims for unemployment insurance actually fell sharply in the first half of January.
But behind this seemingly pleasant facade, stresses are building in the labor market. It is becoming increasingly clear to managers that if they want to keep their profits and productivity rising in a slowing economy, they are going to have to cut large numbers of workers. And make no mistake, layoffs will be as prevalent among New Economy high- tech companies as they will be among more old line industries.
TEMP SLOWDOWN. Indeed, this round of layoffs represents the logical evolution of the New Economy. During the '90s, huge investments in information technology added jobs in many companies. Staffing of IT departments soared to handle the requirements of ubiquitous networks and computers, while the sudden need for almost every company to have an Internet presence spawned entire armies of Web masters and content providers.
But now the tech buying spree is slowing. Companies are trying to absorb the investments they've already made. Instead of hiring hoards of new people to install and maintain new systems, they are focusing on using their information technology more intensively than ever to cut costs by automating transactions, cutting out middlemen, and streamlining production. Of course, reductions are still being made for traditional reasons: too much capacity in a market or the need to cut costs after a merger.
The combination of New Economy and traditional forces is turning what began as a trickle of layoffs into a swollen stream. The latest: Lucent Technologies Inc. announced on Jan. 24 that it was going to reduce the number of workers on its payroll by 16,000. The same day, AOL Time Warner Inc. eliminated about 2,000 jobs, with more likely. Meanwhile, Textron Inc., a large industrial manufacturer, has said it will cut more than 3,600 jobs, while Norfolk Southern Corp. laid out plans for cuts of up to 2,000 jobs this year. Excite@Home reported it would reduce its workforce by 250, and J.C. Penney Co. said it's closing up to 50 stores, with an unspecified number of jobs lost.
All that is only a taste of the layoffs that would come if the economy were to slip into a recession. In the last downturn, for instance, which began in July, 1990, businesses used the weak economy as an opportunity to shed workers and make their operations much more efficient, slashing more than 1.7 million jobs. The cutting was especially deep in Corporate America. As a result, productivity growth at nonfinancial corporations actually accelerated during the 1990-91 recession.
The 1990 downturn also suggests that the current strength of the labor market is no grounds for complacency. Unemployment is considered by economists to be a "coincident" indicator, meaning it doesn't rise until the economy starts contracting. In 1990, unemployment fell to a low point in June, the month before the official start date of the recession. But once the recession began, layoffs snowballed, getting bigger and bigger as the downturn went on.
This time around, companies may be even more aggressive. One early warning sign is a slackening demand for temporary workers. From September to December of last year, employment at temp agencies and other personnel firms fell by 115,000 workers, or 3%, the biggest drop since the bottom of the last recession.
Still, cutting temporary workers isn't the road to big productivity gains. In most manufacturing industries, from food to steel to chemicals, companies are trimming their workforces to keep up with global competition and the slowing economy. That's especially true in the slumping auto industry, where it looks like DaimlerChrysler needs big job cuts to achieve profitability. The pain is filtering down to auto-parts suppliers as well. For example, Dura Automotive Systems Inc. has announced that it will close two plants in the Midwest.
Other layoffs are merger-related. That's certainly part of the reason behind the job cuts at AOL Time Warner and Norfolk Southern, which is still in the process of absorbing its purchase of a portion of Consolidated Rail Corp. Meanwhile, General Electric Co. seems certain to get rid of tens of thousands of jobs in the aftermath of its acquisition of Honeywell International.
WALL STREET CRACKS. In sharp contrast to 1990, the high-tech industry is likely to be at the epicenter of the shakeout rather than being a stable haven. The job devastation at the dot-coms is well known, but it doesn't end there. Motorola Inc. announced that it was cutting 2,500 manufacturing jobs, while Gateway Inc. said on Jan. 11 that it would eliminate 10% of its workforce.
And consulting firms, among the biggest beneficiaries from the New Economy boom, are likely to be hit hard as well. On Jan. 23, MarchFirst Inc., one of the biggest of the Web consultancies, announced it was scaling back by 550 workers, on top of earlier cuts. Other firms such as Fort Point Partners Inc. and Agency.com have been cutting jobs, and the big consultants are likely to be among the next to announce layoffs.
For now, the high-tech labor market is still being sustained by venture capital, which has sagged a bit from last year's record pace but still has not fallen off the cliff. But in the past, VC outlays have started dropping about a year or so after a stock market decline. If the same pattern holds this time, the real pain for tech workers will start around this summer or fall, as money for small companies starts drying up.
Beyond that, there are also big cuts coming in industries such as finance, media, and distribution, which rode the New Economy boom of the 1990s. These businesses rapidly added workers over the past five years while simultaneously investing heavily in information technology. Such a double-barreled strategy made sense in the boom years, since there wasn't an incentive to undergo painful restructuring when times were good. But as the economy slows, companies will be more willing to make big changes to get maximum benefits from technology, and to reduce the number of workers they need. For example, smaller video cameras and laptop editing equipment now reduces the number of people needed for TV field crews, which is one reason why CNN was able to cut 400 workers earlier this month.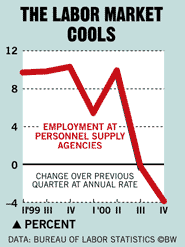 The financial-services sector, one of the biggest spenders on information technology, is another area ripe for layoffs. Over the past five years, the number of jobs in the securities industry have risen by almost 50%, far outpacing almost any other industry. But now the first cracks are appearing. The latest news: Wit SoundView Group, a small New York investment banking firm, announced on Jan. 23 that it was cutting 60 people. While Wit's focus on technology companies made it especially vulnerable to the recent slump in initial public offerings, other Wall Street firms will not escape the need for job-cutting if the stock market stays weak.
U.S. workers have long grown used to being able to easily find jobs. But as the economy turns down and those jobs become harder to find, they may soon be waking up to a new reality.
Before it's here, it's on the Bloomberg Terminal.
LEARN MORE