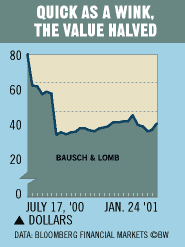 Company warnings of poor earnings have become standard fare these days. But at Bausch & Lomb (BOL), they have become quite a habit. The world's leading maker of contact lenses and other eye-care products has warned four times--for each quarter of 2000--that earnings would be less than anticipated. The most recent announcement came on Jan. 5, when Bausch blamed the shortfall on a soft domestic market for Bausch's products for laser surgery. The result: Shares have cratered, diving from 80 in July 17 to 40 by Jan. 24. Some pros think the stock is so low that it may attract suitors. Some investor groups have started accumulating Bausch shares for just such an eventuality. They argue that management's credibility has become so tarnished that it will be hard for Bausch to win back investors' confidence. Joanne Wuensch, an analyst at ING Barings, says three things could happen: "A takeover is certainly a possibility. Or Bausch may split itself by selling a piece of the company. Alternatively, the board could bring in new senior management." With each "new set of rejiggering of financial guidance, management's credibility is further tarnished," says Wuensch, who cut her 2000 earnings estimate from $3.22 a share (made in April) to $2.57. And she cut her 2001 number from $2.70 to $2.35.
Some pros suspect the likes of Swiss drugmaker Novartis, which also makes eye-care therapies, and Allergan, a maker of contact-lens-care products, are interested in buying pieces, if not all, of Bausch. It has some 22% of the $4.8 billion vision-care market, says Wuensch. Bausch's vision care accounts for 56% of company revenues.
In a buyout, Bausch is believed to be worth more than 55 a share. Bausch declined comment as a matter of policy.
Before it's here, it's on the Bloomberg Terminal.
LEARN MORE