At Long Last, Lawsuits
Shareholder cases, once taboo, are hitting Japan Inc.
Chester Dawson
Kazuyoshi Yuoka is no firebrand and he doesn't make a habit of filing lawsuits. It was Sumitomo Corp.'s 1996 annual meeting that drove him to it. Yuoka, then a holder of 2,000 Sumitomo shares, attended the meeting to hear company executives explain how Sumitomo lost $2.6 billion trading copper in a scandal that got worldwide headlines. But Sumitomo packed the proceeding with company employees and allies who drowned out questions from shareholders like Yuoka with boos and hisses and cheered in support of directors' motions, allowing the meeting to conclude in just 38 minutes. "They acted like it never even happened," Yuoka recalls, incredulous. Disgusted, the third-generation owner of a small textile firm did the unthinkable: He sued. Yuoka charged Sumitomo with gross negligence under the commercial code, asking for 200 billion yen ($1.7 billion) in damages on behalf of all shareholders.
Five years later the case is still pending, a victim of Japan's glacial legal system. But Yuoka has already won, in a sense. Despite Japanese cultural taboos against taking grievances to court, shareholder lawsuits are multiplying rapidly, thanks partly to Yuoka's courage. The number of court cases pending has risen from 31 in 1992 to more than 280 in 1999, according to figures compiled by Japanese courts.
In Japan, shareholder lawsuits are very much a matter of principle--a protest against what investors see as rising corporate arrogance. They can only be brought against executives, and any payout is from those execs to the company. Plaintiffs get nothing. Yet the symbolism of a victory against management is huge. "Lawsuits are the only way to check bad behavior in the boardroom," says Koji Morioka, a Kansai University professor and spokesman for Japan's leading shareholder rights group.
COVERUP. Who's next in line to face investor ire? Mitsubishi Motors Corp. Shareholder activists plan to file suit next month against former Mitsubishi officials implicated in a scandal that has dented vehicle sales and the company's stock price. If the suit goes forward, the group will ask for $84.6 million to compensate shareholders for the writeoff that followed the company's admission that it had covered up reports of defects in its autos for 30 years.
In a sign that the suits are starting to inflict some real pain, Japan Inc. is fighting back. The Big Business lobby, Keidanren, is pushing its allies in the ruling Liberal Democratic Party to introduce a bill designed to curtail "frivolous" suits. Legislation expected to come before Parliament later this year would allow companies to bankroll their executives' defense and cap damage awards against company directors at two years' salary. Currently, their potential liability is unlimited. Fortunately for shareholders, the proposed law would not limit damages in cases of gross negligence or criminal acts, which are the bases for the bulk of claims. But the intent to curb these suits is clear enough, and so is the fear behind the law. "The threat of suits has spooked a lot of executives who never had to worry about the risk before," says corporate-defense attorney Naoto Nakamura.
The list of companies whose executives have settled with miffed investors in the past two years alone includes such heavyweights as Dai-Ichi Kangyo Bank, broker Cosmo Securities, and general contractor Obayashi. Payouts in those cases totaled $2.4 million.
Seeking legal redress for alleged transgressions against shareholders was almost unheard-of before 1993. That's when the Japanese government made it easier for investors to sue by adopting a flat filing fee--of about $70--rather than forcing aggrieved shareholders to pay a percentage up front of the total amount claimed, often tens of thousands of dollars. Now that any Tom, Dick, or Hiroshi can afford them, lawsuits have become a tool for small shareholders to keep executives on their toes. "It has been extremely healthy for the evolution of corporate governance in Japan," says Nicholas Benes, president of JTP Corp., a Tokyo investment bank.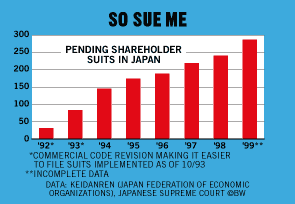 The cash awards are getting steadily bigger. On Sept. 20, the Osaka District Court found for a group of Daiwa Bank Ltd. shareholders, ordering 11 current and former company directors--including Bank President Takashi Kaiho--to cough up a record $775 million for negligence after a rogue bond trader in the bank's New York branch racked up $1.1 billion in losses. If Yuoka wins his case against Sumitomo's former management, legal analysts think the damage award could be even larger--even though the executives involved may not have enough assets to pay.
With luck, these shareholder cases will put the kleig lights on business judgment just as official Japan wrestles with other issues of reform. Even the corporate elite is getting the message. Like many executives, Dai-Ichi Kangyo Bank CEO Katsuyuki Sugita supports measures to rein in shareholder lawsuits, but he also recognizes there's no turning back for Japan Inc. "We must take corporate governance seriously," he says. "Japanese-style management no longer suffices." That's legal advice his peers would be wise to heed.
Before it's here, it's on the Bloomberg Terminal.
LEARN MORE