As The Galapagos Worry About Oil...The Mainland Is Abloom With Roses
Ariane Sains
Before the hapless visitor to Fernandina can take one puff on his cigarette, Cathy Iturralde Dillon is on his case. "No smoking here," warns the eight-year veteran Galapagos Islands tour guide. "No smoking anywhere."
Now, Dillon has something bigger to worry about. Just three weeks after she chastised her wayward charge, environmentalists and tour operators were horrified by a major oil spill off the islands. The leak, from the Ecuadorean ship Jessica, began on Jan. 19, when it ran aground on its way to San Cristobal island. The 600,000 liters of diesel fuel it carried were intended for local use, and the 300,000 liters of much thicker bunker oil for refueling cruise ships.
POACHERS. Environmentalists say it would have been worse were it not for winds and currents that drove the oil away from the islands. "We're confident the ecosystem will recover fully," says Robert Bensted-Smith, director of the Charles Darwin Research Station on Santa Cruz. Only some 70 seabirds and 16 sea lions were injured in the spill, says Bensted-Smith, adding that careful monitoring of marine life will be needed for months.
But the mere fact of the spill, and the constant flow of tankers refueling the 16 main cruise boats touring the Galapagos, raise an uncomfortable question: Is tourism itself the problem? Last year, about 60,000 people, the maximum allowed by law, traveled to the remote island chain that Charles Darwin made famous in The Voyage of the Beagle. Most visitors live aboard ships for a few days to a week and are allowed ashore at 60 sites on the 13 main islands, though only with licensed guides. Galapagos tours are expensive, and visitors pay $100 apiece as an island entry fee, money that goes toward maintenance and paying park rangers to keep illegal fishermen and tortoise poachers out. Eco-tour operators and environmentalists say high prices help combat destructive mass tourism.
But Big Tourism is clamoring to get in--with high-rise hotels, casinos, and much larger cruise ships--and is putting pressure on the financially strapped Ecuadorean government. "New types of tourism are already threatening to change the entire character and purpose of travel to the islands," say officials of the International Galapagos Tour Operators Assn.
Still, most environmentalists don't think stopping tourism is the way to preserve the islands' 5,000 species of plants and animals. Quite the contrary. "Tourism is the salvation of the Galapagos," says Meg Symington, director of conservation for Latin America and the Caribbean at the World Wildlife Fund in Washington. "I think the worst thing would be if nobody went there. Then nobody would care about it"--which would leave fishermen and poachers unimpeded. But Symington also says Ecuador has to improve and enforce regulations concerning hotel construction, shipping, and sewage and garbage disposal. For instance, there was no plan for dealing with an oil spill that some WWF officials say was bound to happen.
Greenhouses dot the winding road through the Andes Mountains above Ecuador's capital city, Quito. Here, 2,800 meters above the sea, one of Ecuador's most successful exports is being nurtured--with 2,000 hectares of roses. While the debate about Galapagos tourism goes on, rose growers have been building up a business that nobody can complain about.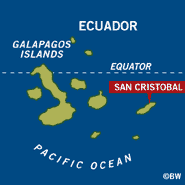 Exports grew as much as 50% a year between 1985 and 1998, when the country's economic crisis left growers without financial backing for expansion. Ecuador's decision in January, 2000, to abandon its sucre for a dollar-based economy helped restore stability but also hurt growers who rely on exports. "We no longer have the advantage of constant devaluations," notes Roberto Nevado, who went into the rose business in 1995 and has invested about $5 million to develop 13 hectares.
About 68% of exports go to the U.S., followed by the Netherlands, with 12%. Russia was also a major market for some growers, with the country's nouveaux riches prepared to pay $5 a stem for meter-long flowers. Its economic collapse has hurt business. But despite the reversals, Nevado thinks that with proper financing and marketing, Ecuadorean rose growers could double or even triple exports in the next 10 years, up from the current 1.4 billion flowers now. It may not have Galapagos glamour, but this industry is flowering.
Before it's here, it's on the Bloomberg Terminal.
LEARN MORE