One Chord Shy of a Song
Kids and teachers appreciate GVOX's online music-education software. Turning that into a viable business is a much tougher trick
At Reed Middle School in Campbell, Ohio, music classes meet most of the time in a musty basement that students call "the stinky dungeon room." Often, says teacher Lisa Steigerwald-Kana, their enthusiasm matches the setting.
Every Monday, however, both scenery and student attitudes change. That's when classes gather instead in a modern computer lab and use Web-based software to learn the differences between sharps and flats and compose their own melodies online. "They'll make up some really bizarre things," Steigerwald-Kana says. "They're so excited about it, and that's one thing you never got out of a general music class before."
That's exactly what small Philadelphia company GVOX Interactive Music had in mind when it developed the software used at the school. Founded by University of Pennsylvania graduate Nathaniel Weiss, who combined his love of the guitar with his training as an engineer, the company struggled for nearly a decade to sell its instructional software to amateur musicians.
FALSE STARTS.
  Competition proved fierce, shelf space was hard to get in major chains such as Comp USA, and traditional music stores were more accustomed to selling sheet music and clarinets. So CEO Weiss shifted his focus to the Internet and developed a software platform aimed at a different audience: the 26 million U.S. music students in grades K-12. "We have a product that makes people light up," he says. The question is: Will the new software and strategy brighten the 21-employee company's balance sheet by finally delivering those elusive profits.
In recent weeks, Weiss, 34, has seen a few encouraging signs. The National Association of Music Education, which counts 85,000 music teachers as members, endorsed GVOX's software, called NotationStation Plus, as the standard for online music education. Even more important: 70 or so schools have committed to paying an annual fee to use the software -- a first step toward the company's goal of gaining 2,500 subscriptions and turning a profit by the end of the year.
Still, reaching that milestone won't be easy. And in many ways, the challenges that GVOX faces mirror those of other Internet companies just trying to survive. Its pile of cash is dwindling. Its general field -- e-education -- remains choked with competitors, though few focus specifically on music. Its business model, despite $20 million raised from private investors, still hasn't been shown to work.
SIZE MATTERS.
  GVOX, which lost $5.6 million last year, initially planned to sell ads on its Web site and give away the software. But Weiss abandoned that idea amid the downturn in online advertising, opting instead to charge annual subscriptions of $1,500 per school. (An early-bird discount of $899 ends Mar. 1.) "As a small company, we have to adapt," says Weiss, who nevertheless believes Internet advertising will some day prove a second source of revenue. "That's what we've always done."
Perhaps so. But the fragmented nature of educational spending makes it a tough market for even the most agile entrepreneurs. In many ways, a company's sheer size and strength counts much more than its capacity for rapid change. That's because spending decisions are made district by district, and school by school. Some put a premium on the arts, while others spend their limited funds elsewhere.
At Reed Middle School, for instance, Steigerwald-Kana sees little chance that school administrators will pay for the software, despite her students' enthusiasm. (The original version of NotationStation will remain available for free on a very limited basis.) As she sees it, the $1,500 fee for unlimited access to the upgraded version is simply too high. "That might happen in some really rich school districts and big cities, but I know the majority around here are not going to put that much money out," she says.
SOME TEACHERS' PET.
  In Summit, N.J., by contrast, such an expense wouldn't be beyond the reach of the local district's music or technology budgets. "Our long-term goal it to expand these types of offerings," says Tom Maliszewski, Summit's director of music and drama. The bottom line: "It really depends on the school system -- their philosophy and how important music education and arts training is," says Sharon Nelson, president of the 4,000-member Ohio Music Education Assn.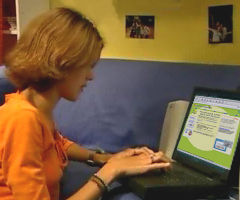 As GVOX sees it, music teachers hold the key. Their advocacy can help pry open a school budget, while each teacher acts as a gateway to as many as 250 students. "The leverage is huge," says Weiss. Still, with a marketing budget for the year of $1.5 million, there are limits to how much pressure the company's sales force can apply. To make the most of the dollars, GVOX is sending teams to trade shows, running ads in professional journals, and relying heavily on the National Music Education Assn. to spread the word of its endorsement.
Weiss knows that his company will need far more marketing muscle than it has now. And that's why GVOX -- which already has dozens of business partners, including the School Div. of The McGraw-Hill Companies (which publishes BusinessWeek Online)-- is now seeking an additional $10 million in capital from companies that could help with sales and distribution.
LOST CHORDS.
  "What's clear is that we have an incredible product," says Weiss, "and a lot of other companies have the reach." While the funding search floundered last fall, as VCs and other investors refocused on companies already in their portfolios, interest has begun to pick up, says Chief Strategy Officer Daniel Werther. Acquisition remains a possibility, too. "There are times when somebody comes along and makes you an offer you can't refuse," he says.
In the meantime, GVOX is conserving what cash it has left, though Werther won't say just how much that might be. Taking a page out of the dot-com playbook, the company cut its 39-person staff to 21 in mid-Januray. That move and other belt-tightening steps should slash its burn rate from $600,000 to $200,000 a month. And a smaller, $2 million infusion of capital the company expects to finalize in the next month should help it reach profitability, Werther says.
The layoffs -- which GVOX described as "furloughs" because it hopes to bring the employees back -- mark the company's third contraction in four years. In 1997, Weiss opened a second office in Huntington Beach, Calif., only to shutter it a year later and lay off 10 employees. And in 2000, he expanded once again -- this time to a 4,000-square-foot suite on Park Avenue South in Manhattan. Eventually, that office also was closed.
SOUR NOTES.
  In hindsight, both expansions were mistakes, concedes Weiss. The satellite offices drained cash and made communication difficult. "It's so hard in this economy to keep your feet on the ground because there are so many new fads," he says, adding that the company's current offices, a spartan 10,000 square feet of space overlooking the Delaware River in Philadelphia's Northern Liberties section, came at a bargain rate. Weiss isn't likely to forget his earlier missteps anytime soon. Blocks of Lucite perched atop his desk hold mementos of the earlier missteps: a miniature Statue of Liberty and a business card with the Huntington Beach address. "I just want to keep myself on my toes," he says.
Over the next six months, Weiss will have to be especially nimble. To break even by the end of the year and hit its target of $3 million in revenue for 2002, GVOX must show it's more than just another Internet business auditioning for a seat in the orchestra. It must perform.
By Julie Fields in New York
Edited by Robin J. Phillips