To some value investors, Volt Information Sciences (VOL), a low-profile Big Board company with two profitable businesses, is ripe for either a breakup or a buyout. The fourth-largest provider of information technology staffing for such companies as Microsoft and 3M, it also lays fiber-optic cable for "last-mile hookup" to homes and offices for such telecoms as Qwest Communications. "The last mile is where the bottleneck in broadband lies, and this work hasn't been hit by the slowdown in telecom," says Summit Capital President John Rudolf, who has been buying Volt shares. He says Volt's IT staffing business remains strong as companies lay off permanent workers.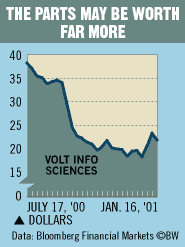 "Volt is a sum-of-the-parts play," Rudolf says, that could end with the company breaking up to unlock the value of its assets--or "another company could either buy one part or all of its assets." Either way, he sees the stock winding up a winner. Now at 22, it trades at 9 times estimated 2001 profit of $2.30 a share. The company earned $2 a share in 2000. Sales are expected to hit $2.4 billion in 2001, up from 2000's $2.1 billion.
Yet Volt's market cap has languished at just $343 million. Based on earnings, the stock is worth 35 to 40, says Rudolf. And in a buyout, it's worth close to 50. About half of Volt's stock is controlled by Volt Chairman and CEO William Shaw, who is in his mid-70s. So any deal has to be friendly. Shaw couldn't be reached for comment.
Before it's here, it's on the Bloomberg Terminal.
LEARN MORE