Playtex: Why No One Is Adopting This Baby
Its huge debt and falling profits seem to be scaring off buyers
Pamela L. Moore
From Woolite to Mr. Bubble to Playtex tampons, little Playtex Products Inc. boasts some mighty brand muscle. That's no accident: Chief Executive Michael R. Gallagher, a Procter & Gamble and Clorox alum, has been spreading brand religion at the Westport (Conn.) company ever since he landed there in June, 1995. He spearheaded acquisitions that stocked Playtex with new products and locked in the No. 1 or 2 positions in each of its three main businesses: tampons, suntan lotion, and infant care. The goal--as some of Playtex' big private-equity investors saw it--was simple: Turn Playtex into an appetizing purchase for an expansion-minded outfit such as Kimberly-Clark or Johnson & Johnson.
Trouble is, suitors don't appear to be nibbling, at least not at the $16 to $18 a share that stockholders would like to get. In fact, Playtex shares have tumbled since May and are idling at around $8.50. For two quarters in a row, Playtex has warned that profits are falling. But perhaps what's most unsettling for potential buyers is that Playtex--which spun off its bra business in 1988 and no longer makes apparel--carries a huge debt: $931.6 million at the end of 2000, dwarfing its current stock-market value of $520 million. "They need to find a buyer," says analyst Andrew Shore at Deutsche Banc Alex. Brown. "But that's going to be difficult. The balance sheet is one of the biggest prophylactics."
WORK IN PROGRESS. Much of the debt is left over from Gallagher's shopping spree. Since 1998, the company has paid more than $390 million for Mr. Bubble, Binky pacifiers, Wet Ones baby wipes, Baby Magic shampoo and lotion, Diaper Genie diaper disposal, and other brands. Gallagher also poured money into advertising, with some success. Indeed, Playtex achieved its highest market share in tampons last year--31%-- while Procter & Gamble, with a 41% share in its Tampax lines, saw unit sales drop sharply in 2000, according to Chicago-based Information Resources Inc.
Brand strategist Laura M. Ries, whose Roswell (Ga.) firm, Ries & Ries, advises companies on marketing issues, says Gallagher is moving in the right direction. "It's a page right out of [General Electric Co. CEO] Jack Welch's playbook. And that's a great strategy because you do make money on brands that are No. 1 or No. 2." But, she adds, the strategy is still a work in progress: "They've acquired some big brands, but they should shut weak ones." Topping her list of products to jettison are some personal grooming lines acquired in 1998, including Binaca breath spray. They're "tiny, tiny brands that are just sucking resources out of the company."
The debt load is manageable for now, but what's worrisome is Playtex' slowing growth. Sales--excluding acquisitions--grew 8% in 1999 but slowed to a 5% crawl in 2000 and aren't expected to do better this year. Some of that is due to the downshifting economy as Wal-Mart Stores Inc. and other large retailers cut back on inventory, Gallagher told analysts this month. But the CEO, sounding beleaguered in the conference call, also acknowledges that the company is facing tougher competition. The strongest threat comes from Johnson & Johnson and Gerber, which have been attacking Playtex' strong infant-feeding lines. Information Resources says unit sales of Playtex' popular spill-proof cups, for example, fell 13% for the year ending Dec. 3, and bottle unit sales dropped 12.4%
So how will Playtex cope until it finds a buyer? Gallagher declined to be interviewed, but Chief Financial Officer Glenn A. Forbes says the company has no big strategic changes in store--just "basic blocking and tackling" in marketing its brands. And Gallagher, in his session with the analysts, didn't rule out more acquisitions.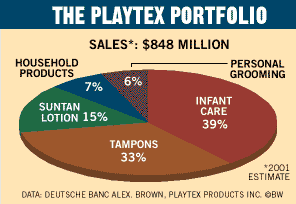 Several major investors who have stuck with Playtex say they have confidence in Gallagher and are willing to wait for him to boost the share price and pave the way for a sale. "It's not time to bail, it's time to buy the shares," says investor Samuel R. Shapiro, president of Atlanta's Shapiro Capital Management Co., who increased his firm's position this month. His rationale: He believes Playtex will sell this year to J&J or Kimberly-Clark. J&J won't comment, while Kimberly-Clark says a purchase is "unlikely." With sales-growth falling and the economy slowing, it looks as if Gallagher will need all the patience his stockholders can muster.
Before it's here, it's on the Bloomberg Terminal.
LEARN MORE