Now Disneyland Won't Seem So Mickey Mouse
By expanding its original theme park into a full resort, Disney hopes to reap Orlando-style profits
By
It's almost as much a part of Walt Disney Co. folklore as the 1928 birth of Mickey Mouse. To raise the $17 million he needed to build Disneyland, company founder Walt Disney mortgaged his house and sold off a one-third stake to the ABC network. Still, he could only afford 74 hectares in a citrus grove in Anaheim, Calif. When tacky T-shirt shops and cheapie motels clustered around Disneyland's gates, Walt looked to Orlando, Fla., a decade later, surreptitiously buying 11,300 hectares to buffer his second park from the neighbors.
Now, nearly half a century later, Walt's company is at it again in Anaheim. Sprawled alongside the original Disneyland, the 22-hectare, $1.4 billion Disney's California Adventure theme park, due to open Feb. 8, is designed to create a mini-version of the Orlando resort. Delayed for five years by political wrangling and the early 1990s slowdown, the park opens at a crucial time for Disney. The company is counting on the $6.8 billion theme-park unit to generate $1 billion in free cash by 2002, with the new Anaheim park to be followed by parks in Tokyo and Paris. Those added revenues will be welcome as Disney faces softer advertising sales at ABC while trying to revamp its underperforming stores. But tighter pocketbooks in a slower economy could hurt the grand plan.
The idea is for Disney's California Adventure, roughly two-thirds the size of Disneyland next door, to become a stronger magnet for tourists. Visitors at Disney's Florida parks stay an average of seven days, compared with scarcely two days in Anaheim. And folks tend to spend nearly twice as much per person in Orlando, what with all the attractions, meals, and hotel stays. That's why Disney went hunting for more acreage in Anaheim, where it now has three hotels and a 28,000-square-meter Downtown Disney shopping and restaurant complex. "The Orlando philosophy is to get you there, keep you there, and to make sure you spend all your money with them," says Kerry Hunnewell, a former Walt Disney Co. vice-president. "In Anaheim, we needed a reason for folks to stick around."
SLOWDOWN BLUES? As envisioned by Disney, you can stay at the new 750-room Grand Californian, where rates run from $250 for most rooms to $3,000 for the 215-square-meter presidential suite. At night, you could hit the House of Blues or Rainforest Cafe, both partially owned by Disney. The park features roller coasters, a ferris wheel, and attractions based on California life. The ticket price: $43 for adults, $33 for kids--but Disney is pushing a $99 three-day pass for both parks. The addition of California Adventure is likely to boost Disneyland's attendance next year by 50%, to 20 million, figures Merrill Lynch & Co. analyst Jessica Reif Cohen.
But the bigger question is what happens down the road. Sanford C. Bernstein & Co. analyst Tom Wolzien figures the heavily hyped opening of California Adventure will push up Anaheim's operating profits by 26%, to $246 million this year, helping to lift the overall theme-park unit. "You usually book these trips seven months in advance," says Wolzien. "And parents aren't going to tell their kids the trip is off because the economy is slowing." But he figures the bookings could slow as the economy ebbs.
Disney wasn't thinking about a slowdown when it began what turned out to be an epic slog to get to opening day. Started in 1990 as a West Coast version of the education-heavy Epcot Center in Orlando, the project suffered from local opposition and an often tense relationship with the Anaheim government, which worried about getting stuck with paying too much of the bill. After ditching the project in 1994, Disney came back a year later with a less expensive version. The company finally broke ground for its Anaheim park in early 1997.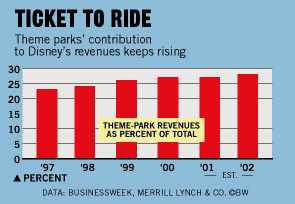 MARKETING BLITZ. In the end, Anaheim officials, eager to add the 5,000 jobs, buckled under Disney pressure and offered more than $200 million in tax subsidies. The city also issued $517 million in revenue bonds, some backed by Disney, to reduce interest rates. And Anaheim agreed to demands that hotels outside the gates upgrade landscape and get rid of their gaudy signs. "Disney is Disney, they like to do things their way," says Anaheim Deputy City Manager Tom Wood. Still, he figures the city will collect $6 million annually in new taxes even after paying debt on the bonds.
That's if everything goes according to plan. During the early '90s, attendance fell by 4% at Orlando and by 8% in Anaheim, says Wolzien, cutting overall theme-park earnings by 30%. Analysts don't expect that to happen this time around. But to make sure, the company is spending about $60 million on a marketing blitz. Then, the company hopes, folks will not only come, but stick around for awhile.