Argentina's Provincial Profligates
Their spending and patronage is busting Buenos Aires' budget
by
To investors in emerging markets, 2001 could well be the year of Argentina. Fears that Latin America's third-largest economy might default on its $123 billion public debt have eased, thanks to a $39.7 billion Christmas gift from the International Monetary Fund. But it's now up to President Fernando de la Rua to prove to the fund that Argentina can sort out its finances. If he fails, the consequences could be dire for bourses from Buenos Aires to Moscow.
Yet the key to Argentina's success in this grim struggle doesn't lie in the presidential palace. Instead, investors must pay close attention to what happens in Argentina's interior. It's the far-flung provinces, with their budget-busting spending, that have helped push the country to the brink. De la Rua, as part of his bid for IMF aid, has extracted a hard-won pledge from Argentina's 23 governors to freeze expenditures for five years. It's the most concerted effort to bring the unruly provinces to heel since the bloody 19th century dictatorship of Juan Manuel de Rosas.
But will the pact with the provinces hold? Concluded in a flurry of backroom negotiations at the end of November, the agreement is one of the cornerstones of the de la Rua administration's efforts to rein in a pernicious fiscal deficit now running at $6.7 billion, or 2.3% of gross domestic product. Yet with midterm elections in October and unemployment still hovering near 15%, it will take all of the political capital de la Rua can muster to keep governors true to their word.
The problem is rooted partly in Argentina's constitution. This requires the federal government to share tax revenues with the provinces on the basis of a rigid formula. However, authorities in the capital have virtually no control over how the funds are spent. Such local autonomy has fueled patronage and, in some cases, outright corruption. Provincial operating expenditures have risen by more than 25% since 1995 even though inflation averaged -0.1% during the same period (chart).
The backwater province of Formosa is a prime example. Located on the northern border, Formosa has only 450,000 inhabitants and contributes a pittance to overall GDP. Yet its 30 provincial legislators each collect a whopping $12,000 a month in salary. What's worse, the federal government bankrolls such excesses by financing up to 90% of Formosa's budget.
EXPENSIVE VOTES. While such flagrant abuses make for good headlines, the real damage caused by fiscal indiscipline originates in Argentina's larger provinces. Perhaps the biggest threat comes from Buenos Aires. The stand-alone province is home to one-third of Argentina's population of 36 million and boasts an annual GDP greater than that of Colombia. Yet its fiscal accounts have undergone a precipitous deterioration since former Governor Eduardo Duhalde launched his failed 1999 presidential bid. In the two years leading up to the elections, expenditures rose an alarming 22%, mostly in the form of patronage jobs doled out to secure voters' support.
If the provinces are going to break their agreement to freeze spending, it will likely start with Buenos Aires' current governor, Carlos Ruckauf. Like his predecessor, he hails from the opposition Peronist party and harbors his own presidential ambitions. Despite Ruckauf's campaign pledge to mend the province's finances, by October Buenos Aires had already run up a $983 million operating deficit, 10% greater than the original projection for the entire year.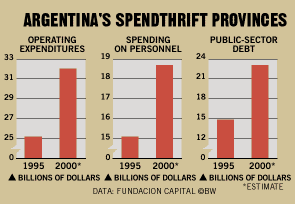 FLOCK OF FLACKS. Buenos Aires Economy Minister Jorge Sarghini blames the poor performance on Argentina's ongoing recession, which he claims has been exacerbated by a federal tax increase in April. "We paid the price for their nearsightedness," says Sarghini. Yet it's hard to feel much sympathy for Buenos Aires when one reads in the papers, as Argentines did recently, that the province is adding 11,255 jobs to its payroll this year. Local authorities claim the cost of new hires will be offset by reductions in the provincial investment budget. More worrying is the fact that Buenos Aires is getting deeper into hock. A $200 million eurobond issue, now in the works, will bring Buenos Aires' total debt to near $5 billion.
Unfortunately, there is not much de la Rua can do to tame spendthrift governors like Ruckauf. That's not the case in Brazil, where local authorities that overshoot targets can be fined and even jailed. The 19th century dictator Rosas, whom critics dubbed the "Caligula of the River Plate," used the sword to keep Argentina's provinces in line. De la Rua's pact may turn out to be a far blunter weapon.
Before it's here, it's on the Bloomberg Terminal.
LEARN MORE