business
A Hundred Malls May Bloom...But They Don't Scare This Market
Macabe Keliher
As a kid growing up under martial law 30 years ago, Tony Sheen hated two things the most: the lack of any place to hang out and the after-dark curfew. "We used to sneak around on the streets in the middle of the night behind the backs of the soldiers. Only problem: There was no place to go," says the wry 54-year-old, nestled in an Italian leather couch in his uptown office tower.
Although martial law was lifted in 1986, Taipei still closes down at 10 p.m. for anyone hoping to buy much besides a cocktail. But Phenomena ("Tony") Sheen, now chairman of one of the island's largest conglomerates, Core Pacific Group, vows that will change in October when he opens the doors around the clock to Core Pacific City. With 19 floors and more than 1,000 stores, it will be one of the largest shopping centers in the world. And at a cool $400 million in construction costs, plus land outlays to match, it is one of the most expensive.
Still, Sheen's timing looks good. The disposable income of Taiwanese has doubled in the past decade, to around 30% of total spending, but Taipei offers little more than department stores or mom-and-pop shops. Furthermore, as the country relaxes working hours and moves toward a two-day weekend, people have more time on their hands. "In countries with a developed shopping culture, only 19% of visitors go to a mall to buy. The rest go for a place to hang out," says Victor Liu, head of the Taiwan Shopping Center Development Council.
While the rest of Asia enjoyed a development boom in the early 1990s, Taiwan was tangled in red tape and zoning regulations, making it virtually impossible to develop a mall. Some 10 years later, under constant pressure from developers, the government has cut the tape, relaxed zoning, and offers tax incentives. The Economics Ministry has approved 38 applications for shopping mall projects worth $5 billion, and construction of five malls is already under way around the island. And Liu says he has seen more than 100 plans in the making.
Which raises a question: Are there enough shoppers to support all those malls? Southeast Asia's experience offers a cautionary example: "Economic success led to an explosion in consumer spending, which in turn led to high rents and more shopping centers," says Edmund Tie, CEO of real estate consultants Edmund Tie & Co. in Singapore. Today, Southeast Asia is seriously over-malled. Prime rents are down by as much as 50% to 70% from their peak, and occupancy has fallen as low as 50% to 65% in cities such as Bangkok and Jakarta.
FEELING THE SQUEEZE. As if that weren't deterrent enough, Taiwan is in the midst of a decade-long real estate glut. Property prices are down 20% to 30% from their highs, and vacancies are as high as 40% in some cities. Taiwan's only real mall, Taimall in Taoyuan city, is already feeling the squeeze, as revenues for 2000 hit less than 30% of projections. But developers are pushing ahead nevertheless. The Taiwanese, after all, dearly love to gamble.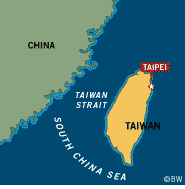 While developers are thinking big, the Taipei City government is going back to basics. Instead of investing half a billion dollars to build a pristine indoor city, like Sheen, they're renovating a traditional market area. In 1996, the city closed off three streets in the southwest corner and began laying bricks for pedestrian walkways. Three years and $5 million later, the result is Hsi-men, or "West Door," one of the city's liveliest outdoor markets. Its history goes back to Japanese colonial rule in the first half of the 20th century, when Japanese officials created a shopping and entertainment district. Today, the 1,100-square-meter area supports 13 modern movie complexes and more than 200 shops. You can find old Chinese men with long gray beards carrying birds into Starbucks for a latte, and hotels that advertise rates by the hour. Musicians and street performers help draw as many as 200,000 people a day. It's the only place in Taiwan that one can buy Japanese platform shoes, urinate into a toilet shaped like a person's head, and catch the latest Wong Kar-Wai movie, all on the same block.
Now there are calls for more expansion. The city is renovating the next street over and plans to turn the area to the south into an extension of Hsi-men. Officials hope to put in an IMAX theater in two years. Certainly, Core Pacific City looms as a threat. But will you be able to get Taiwanese scallop bread, shaved ice with condensed milk, and traditional medicinal plum juice there? "This just has the feel, man," says one teenager with lime-green hair. So Hsi-men will probably survive the onslaught of the malls.
Before it's here, it's on the Bloomberg Terminal.
LEARN MORE