Show and Tell...and Sweat
Given the tricky funding climate, meeting with investors ain't what it used to be
By Scott Kucirek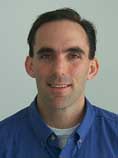 This week, it was time to keep investors happy and supportive -- namely, by doing a presentation to their limited partners. They're the people or organizations that give money to venture investors with the goal of getting an unusually high return. Profits are used to fund new businesses in exchange for very low-priced shares in the companies.
The hope is that in a few years the new companies will be successful, which would dramatically increase share value and allow the investors to sell their stock at a large gain. The venture team keeps a nice chunk of this new money, but the majority of these gains are then returned to the limited partners. They judge the venture team's success according to the returns on the initial investment. If the limited partners are happy, successful venture teams will get even more money to invest, allowing the cycle to repeat itself. If a venture team doesn't do well, however, it usually can't attract new investors and goes out of business.
STAR ATTRACTION.
  So last week, Barrington Partners, which invests in early-stage startups, asked me to do a presentation for them in Palo Alto, Calif. Since this team was the first to commit institutional money to our company and has been incredibly supportive over the last couple of years, I gladly took the opportunity to update the limited partners on what we were doing. I also knew Barrington was in the midst of raising its third round of investment money and was counting on a good presentation to convince current and potential investors of its ability to select winning companies.
When I first entered the room I could tell right away that these meetings aren't what they used to be. A couple of years ago, a limited-partner meeting was an excuse for a weekend getaway to catch up with old friends and congratulate oneself. With the Nasdaq's downturn, however, these meetings have taken on a more serious tone.
Limited partners accustomed to seeing returns of 50% to 100% per year are shocked to hear that they're losing money because the portfolio companies are out of business. This climate has limited partners and venture teams concentrating on survival rather than socializing.
SOOTHING WORDS.
  I went in knowing I had to deliver a great presentation. We started our latest round of fund-raising a month ago so, luckily, I was ready to deliver a pretty polished presentation. After watching one of the venture-team members answer some challenging questions for about an hour, I was introduced and took center stage. This group was very savvy and could spot any flaw in a business. Barrington's fund was doing well, yet with our company being one of its largest investments, I could sense that the limited partners wanted assurance that we were headed in the right direction.
I delivered the 20-minute presentation without a hitch and took a few minutes to answer some insightful yet difficult questions. A couple of people spoke with me one-on-one afterward, but no real problems came up. With another appointment scheduled in San Jose, I ducked out, wondering how it all went.
The next day, the Barrington folks called and thanked me for a well-received presentation. In fact, it went so well they want me to repeat it again for their East Coast group of investors. I guess I'll be making plane reservations. See you in two weeks.
Scott Kucirek is president and co-founder of zipRealty.com, an online real estate brokerage. The company's Internet site and online real estate agents let people complete the entire purchase or sale of a house via the Web. The company's Web site is www.zipRealty.com, and you can E-mail Scott at Scott@zipRealty.com.
Before it's here, it's on the Bloomberg Terminal.
LEARN MORE