For much of 2000, Inhale Therapeutic Systems (INHL) stock matched the 160% gains of the Nasdaq Biotech Index. By Dec. 29, Inhale had soared 168%, to 50 a share. But then the biotechs got pummeled. By Jan. 10, Inhale plummeted to 31. Fans of Inhale argue the drop provides a rare chance to snap up a stock that's set for another blast.
Inhale has developed a delivery device that lets patients inhale a drug--such as insulin for diabetes--deep into the lungs, where it is absorbed into the bloodstream. The bulls say that 2001 will be a blockbuster for Inhale: In mid-June, Pfizer and Aventis, Inhale's partners in developing and marketing inhaled insulin, expect to report final results on Phase III human clinical trials. "That will be the driver to pull the stock higher," says Peter Ginsberg, an analyst at investment firm U.S. Bancorp Piper Jaffray. Biotech stocks usually make giant moves just before clinical trial results are made public, he says.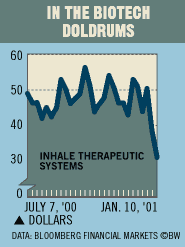 "We expect the results will show inhaled insulin's efficacy is comparable to injected insulin and more effective than oral insulin," he says. Some 16 million Americans suffer from diabetes. Pfizer has reported preliminary Phase III data that show the "superior efficacy of inhaled insulin over oral agents," notes Ginsberg.
Pfizer will seek Food & Drug Administration approval in the second half of this year, putting inhaled insulin on the market in 2002. Ginsberg estimates world sales of $280 million in 2002, $595 million in 2003, and $1 billion in 2004. That should put Inhale in the black in 2004, with earnings of $1.15 a share, he says. Inhale is developing inhalable forms of other drugs--including Avonex for multiple sclerosis with Biogen, and calcitonin for osteoporosis with Eli Lilly.
Before it's here, it's on the Bloomberg Terminal.
LEARN MORE