Inprise Looks Set To Click Again
by
Inprise (INPR)--soon to be renamed Borland Software--was a stock that Kai Tao of Watson Asset Management loved to hate: The provider of Internet-access infrastructure and software application tools kept losing money. So when the board pushed out CEO Delbert Yocum and CFO Kathleen Fisher on Mar. 31, 1999, Tao applauded. Now he's impressed with the new team, led by CEO Dale Fuller, an ex-Steve Jobs aide at Apple Computer, who has turned Inprise around since taking over in April. He showed a profit in the first quarter of 2000 and is expected to earn 25 cents a share for all of 2000. Tao, who started buying shares in December, 1999, when the stock was at 4, sees the earnings growth continuing through 2001 and 2002. His firm has accumulated 500,000 shares of the stock, which hit 16 in January, 2000. It has since tumbled to 6 1/2 along with other tech stocks.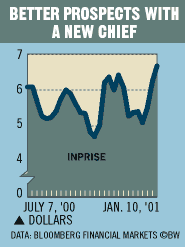 Inprise rivals Microsoft and Oracle are among its big customers. Microsoft, in fact, has invested $25 million, for a 10% stake, even though Inprise is the No. 1 independent provider of application tools for major platforms, including Linux systems. A new product, Kylix, is the first rapid-application development tool for Linux, says Fuller, adding: "We have created a new online Linux community for applications developers."
Brian Swift of Security Research Associates in Larkspur, Calif., says value investors of late have bought into Inprise. "The fact that it has $250 million in cash, or $3.50 a share, with no debt--and Fuller saying earnings growth will continue--is music to their ears," says Swift.
Before it's here, it's on the Bloomberg Terminal.
LEARN MORE