Dressed for Success
Here's why stocks of specialty apparel retailers appear to be turning around -- and the top S&P picks in the group
By Sam Stovall
Ever since the Federal Reserve cut short-term interest rates on Jan. 3, the economically sensitive sectors within the S&P Super 1500 Index have shifted into overdrive, leaving the defensive groups in the dust. In particular, the S&P Consumer Cyclicals Index rose 6.3% year to date through January 16, led by a 29% jump in the Retail (Computers & Electronics) Index and double-digit advances in seven other groups.
What's more, only three of the 26 component industry indexes have underperformed the market this year. (Visit www.spglobal.com's sector scorecard site every Monday to keep tabs on sector and industry performances.)
Of course these results should be taken with a grain of salt - there haven't been that many trading days so far in 2001 and these industry indexes are coming off of very low bases. During 2000, the sector fell close to 18%, led by declines of 20% or more for 10 component industry indexes.
But if my 12-month relative performance charts are correct -- and their unemotional take on industry performances usually is on the mark - investors are expecting additional cuts in the Fed funds and discount rates to have a positive impact on the bottom lines of consumer cyclical companies and their share prices.
As can be seen in the chart below, one industry in particular appears to be coming out of a protracted slump: Retail (Specialty Apparel). This group consists of such companies as Abercrombie & Fitch (ANF , ****), Gap (GPS , ***), Limited Inc (LTD , ***), Men's Warehouse (MW , ****), and TJX Companies (TJX , ***). Nine other companies are found in this index, but carry no STARS ranking.
This is not an industry to buy and hold for the next 20 years, however, according to Karen Sack, S&P's retailing analyst. She says the demographic underpinnings for apparel sales are weak. An older population will be less interested in the latest "hot" fashion trend. They typically will focus on other priorities. Saving for retirement and paying tuition and health care costs will become day-to-day concerns. These expenditures will garner a greater share of disposable income.
In addition, there is an excess of retail square footage in America -- some 20 square feet for every man, women, and child in the U.S. As a result, chains are cutting back on their expansion plans, closing underperforming units, and investing in cost-cutting technology. Importantly, costs are being brought in line with more modest sales expectations. This should benefit the companies with superior management, a strong consumer franchise, and moderate levels of debt.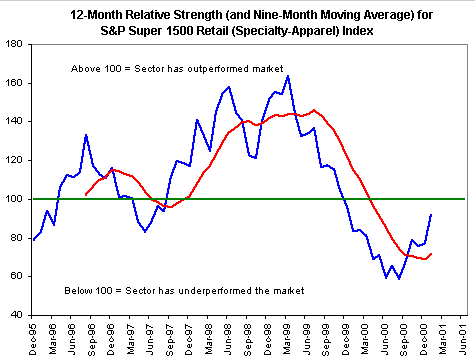 Stovall is senior sector strategist for Standard & Poor's
Before it's here, it's on the Bloomberg Terminal.
LEARN MORE