Canada: A Chill Wind From The South
Gordon Thiessen's last policy meeting before he retires as Bank of Canada governor on Jan. 31 should be a doozy. On one hand, strong employment growth, rising inflation, a firmer Canadian dollar, and a sizable fiscal boost argue against an interest-rate cut at the BOC's Jan. 23 meeting.
However, economists agree that it's only a matter of time before Canada's economy feels the chillier winds from the U.S. slowdown, and that perhaps a rate cut, on the heels of the Federal Reserve's surprise half-point cut in U.S. rates on Jan. 3, would be a smart preemptive strategy.
Canada's economy has zoomed along at a 5% clip since early 1999, chiefly reflecting strong U.S. growth. Canada sends more than 85% of its exports to the U.S., and exports account for more than 40% of Canada's gross domestic product. But while U.S. growth has slowed sharply in the second half of 2000, Canada added 31,000 new jobs in December, after a promising November gain, and manufacturing payrolls and output still look healthy.
That won't last, say analysts. Canadian output has not yet felt the brunt of the slowdown in either U.S. car sales or outlays for high-tech equipment and services. After third-quarter growth of 4.8%, fourth-quarter real GDP is expected to slip to about 3%, with growth below that in the first half of 2001--perhaps well below, depending on the extent of the U.S. slump.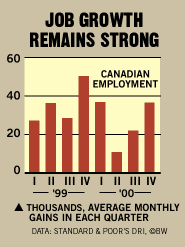 Despite the hit from softer foreign demand, Canada's domestic demand has a cushion in addition to sturdy labor markets. Budget stimulants, including hefty cuts in personal income taxes that took effect Jan. 1, will total some 2% of GDP, according to analysts' estimates. But that will merely ease the blow, not prevent it.
Moreover, with oil prices already coming down, lower energy costs will dampen inflation. Consumer-price inflation moved up to 2.9% in November, but excluding energy and food, core inflation remains stable at only 1.7%. Add it all up, and Governor Thiessen's last policy move just might be a rate cut.
Before it's here, it's on the Bloomberg Terminal.
LEARN MORE