Bidding For Gehl May Heat Up Again
by
The buyout action at Gehl (GEHL), a maker of agricultural and light-construction implements, is far from over. A month after this column reported on Nov. 27 that Gehl was a buyout target, a group led by CIC Investments and Newcastle Partners made an offer of 18 a share. The stock was then at 11 and has since gone up to 14. But the board rejected the offer outright, arguing that 18 "was not sufficient to measure up to the value it believes is available from pursuing other approaches."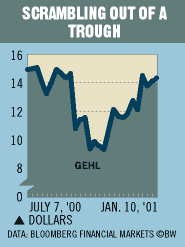 A shareholder lawsuit has been filed, accusing Gehl of failing to give the bid fair consideration. CIC and Newcastle, which already own 6.4% of Gehl, aren't going away and may yet raise their bid, sources say. One investor believes Gehl may be talking with a possible white knight--in case CIC and Newcastle mount a takeover or proxy fight. Japan's Komatsu is said to be interested in Gehl. Heartland Advisors, which owns 8.5% of Gehl, favors a sale of the company. Heartland President William Nasgovitz, in a second letter sent recently, reiterated its stance and assailed the board for not maximizing shareholder value. Stay tuned.
Before it's here, it's on the Bloomberg Terminal.
LEARN MORE