A Break In The Weather For Microsoft? Not For Long
One stock rally won't improve its prospects for this year
Jay Greene
When Microsoft Corp. warned investors in December that it would miss earnings expectations for the first time in a decade, its shares fell as hard as the rain in Redmond this time of year. But the storm on Wall Street lasted all of three days. In the last month, Microsoft shares have climbed 27%, to $53, even as other tech stocks have suffered. "In the hammering over the last week, who's done well? We have," crows Microsoft CEO Steven A. Ballmer.
But is the market getting ahead of itself? Sure, Microsoft has plenty to look forward to. Start with a host of new products, including updates to Windows and Office, products which account for the lion's share of revenue. Add to that a Bush Administration that's less likely to vigorously pursue the long-running antitrust suit, and the Fed's New Year's rate hike, and 2001 starts to look pretty rosy for Gates & Co.
Not so fast, though. Last year's bad performance may continue at least for the first half of 2001. The new products launch amid the worst tech slump in five years. And although new federal trustbusters might back off, its legal troubles are hardly over. "Every company gets its moment in the sun. Microsoft's moment was for a very long time," says CIBC World Markets analyst Melissa B. Eisenstat.
CORE WEAKNESS. Indeed, the skeptics--and many remain--point to deteriorating fundamentals as reason enough to exercise caution. Worse, they're spooked by the sense that Microsoft, long considered one of the most adept companies at managing earnings news, may have lost that ability because its earnings growth has slowed dramatically. The company told analysts in December to cut earnings expectations for the second quarter that ended Dec. 31 from the consensus 11% growth. Instead, on Jan. 18, the company plans to announce a more anemic rate of 7%.
It may get worse before it gets better, largely because the sales of core products are likely to remain sluggish. Microsoft generates about 40% of its revenue from sales of the Windows operating system on PCs. But PC sales languished throughout 2000. With market research firm IDC expecting PC sales to grow just 16.6% this year, much slower than in recent years, Windows won't likely pick up.
It isn't just slowing consumer PC software sales that are crimping Microsoft. Corporate tech sales are slowing, too. A recent Merrill Lynch & Co. survey of chief information officers found that corporate technology budgets will grow only 9% worldwide, and a scant 5% in the U.S.--sharp drops from past rates.
As a result, Microsoft needs to get scrappier to bolster its profits from a declining market. It's banking on the hope that tightening tech budgets will boost demand for its low-cost Windows 2000 operating system for heavy-duty servers, along with its recently launched family of software for running e-mail, database, and Internet computers.
But if tech spending dries up, it will be difficult to build momentum behind many new products. Indeed, one of the first casualties could be the latest update of its Office word-processing and spreadsheet software due out this spring. At barely two years old, Office 2000 still meets most users' needs.
All of which makes the current stock rally precarious. Even Microsoft co-founder Paul Allen has been hedging his bets. In regulatory filings last month, he disclosed that he is using a complicated hedging strategy, called a collar, to protect gains on 76.15 million of his Microsoft shares in case the stock falls further. Allen, who left Microsoft's board last fall, declined to comment.
"BECOMING NORMAL." The market may also be too optimistic over the prospects of a speedy end to Microsoft's antitrust problems. The 19 state attorneys general who are co-parties to the suit say they'll pursue the litigation even if the new administration doesn't. And if a new U.S. Attorney General backs off, Microsoft still has to reverse the lower-court verdict ordering a breakup.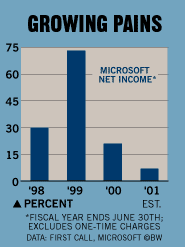 Certainly, Microsoft is working to win back the disbelievers. CEO Ballmer fired off an e-mail to all 40,000 employees last month, laying out priorities for 2001, including plans to curb spending. To keep employees revved up, he sent another e-mail on Jan. 8, moving stock option grants up from August to February. And overall, he remains sanguine. "If we're doing well competitively and the market is not quite as robust as we expected it to be, I'm not going to feel terrible about that," Ballmer says. "We're going to make adjustments and move on."
Nevertheless, even Ballmer has acknowledges that the days of 30% revenue growth are behind Microsoft. "The aura of invulnerability is gone," says a software programmer who has worked at the company for five years. "We're becoming a normal company." And that may be the most troubling news of all.
Before it's here, it's on the Bloomberg Terminal.
LEARN MORE