Why Pioneer Could Get Ambushed
by , , and
Take a battered stock, figure in some industry consolidation and a 63-year-old CEO with no heir apparent, and it adds up to a company that is a potential takeover target.
That's how things appear at Pioneer-Standard Electronics (PIOS), an electronics distributor, says Edward Shadek of Putnam Investments, the second-largest institutional investor with a near $19 million stake as of Sept. 30. The Cleveland electronics company stocks about 400,000 items--computers, circuits, and semiconductors--which it ships to resellers, manufacturers, and corporations worldwide. IBM, Compaq, and Intel alone account for about 60% of sales.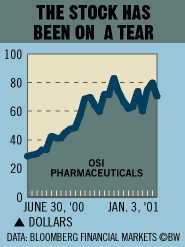 Two Big Board-listed Pioneer rivals--$2.7 billion Arrow Electronics and $1.9 billion Avnet--have a lock on about 50% of the market. That makes third-ranked Pioneer, with its $300 million market cap, a likely buyout candidate, according to Shadek. "I don't think it's a stretch to think you'd get 20 [a share]," he says. Pioneer currently trades at 11 5/8, down from its 52-week high of 18 3/4 on Mar. 1. While the cyclical in tech is a concern, says Shadek, there are more pluses for Pioneer than minuses: First Call's consensus earnings forecast of $1.46 per share for the fiscal year ending Mar. 1, 2001, for a stock that trades at seven times earnings, "doesn't have a lot of downside," says Shadek. "A lot of the bad news is built in." Robert Damron of Tucker Anthony agrees that the stock has at least 100% upside in 12 to 18 months.
Before it's here, it's on the Bloomberg Terminal.
LEARN MORE