White Hot At Osi
by , , and
Biotechs such as OSI Pharmaceuticals (OSIP) have been a booster shot for investors in an ailing market. Just a year ago, the Nasdaq stock was trading at 7: a steal, it turns out, since OSI is now around 70. The stock is down since its Nov. 6 high of 86 3/8, yet early buyers of the $2 billion company are keeping the faith. Dr. Liu-Er Chen, who picks stocks for the $70 million Evergreen Health Care mutual fund, earned his investors triple-digit returns last year picking stocks such as OSI, and he says he's staying put. He thinks OSI has the makings of a 150 stock by 2003, when he expects the money-losing outfit to be profitable.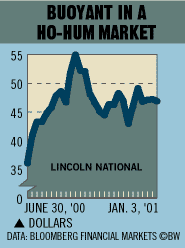 For now, the company is losing more money than at any other time in its 15-year history: The net loss for the fiscal year ended in September was $16.3 million, a 66% spike over 1999. The loss is likely to go higher this year, as OSI ushers products into later-stage clinical trials. Still, Chen says the Uniondale (N.Y.) company has targeted 50 genes with the potential to become small-molecule drugs to treat asthma, high cholesterol, heart disease, and diabetes. Adds Robertson Stephens analyst Michael King: "If you can deal with the volatility, you will be well rewarded. The company has a strong pipeline."
The clincher with OSI is its lead drug--the so-called OSI-774--which aims to prevent the growth of tumors in some 30% of cancer patients. OSI-774 is poised to tap into a $1 billion market, "one of the few opportunities to invest in a cancer drug where the potential market is that big," King says. Success rides on the Food & Drug Administration's approval of OSI-774, "the likelihood of which is very high," says Chen. "If everything goes well, OSI could easily be worth $5 billion."
Before it's here, it's on the Bloomberg Terminal.
LEARN MORE