business
The Ground Is Getting Soft Under Housing
Even the Fed cut may not be enough to put housing on its feet
Dean Foust
Over the past few years, the next best thing to holding shares in an Internet highflier was owning a home in one of the nation's hot real estate markets. In Silicon Valley, tales abound of Internet tycoons offering homeowners $1 million in cash. In Chicago, developers like David W. "Buzz" Ruttenberg, president of Belgravia Group Ltd., recall seeing 70-year-old grandparents buying high-rise condo units under construction--only to flip them for a quick profit. And in Austin, Tex., agent Sandy Goodwin surprised even herself last summer when she sold a home for $50,000 above the owners' $180,000 asking price.
But with the sharp slowdown in manufacturing and the tech sector fueling fears of a recession, the rock-solid housing market has begun to look vulnerable of late. The National Association of Realtors (NAR) predicts that resales of existing homes will slip 5% in 2001, to 4.53 million. It expects construction of new single-family homes to slide 3.4%, to 861,000 units, on top of the 2% decline over the past year. This weakness is spilling over into the renovation market as well: On Jan. 3, the Commerce Dept. reported a 0.6% dip in construction spending in November--a decline driven in part by a 6.3% drop in home improvements.
"SHOT IN THE ARM." That's why developers and agents were ecstatic about the Federal Reserve's surprise half-point interest-rate cut on Jan. 3. A cut "is just the shot in the arm the market needs," says Keith L. Hartke, manager of the Great Falls (Va.) office of real estate agency Coldwell Banker Stevens.
But the Fed's action may not get things cooking again. While it helped ignite a rally in the stock market, the cut did nothing for mortgage rates. Yields on 10-year Treasuries--the benchmark for most mortgage rates--actually rose by nearly a quarter-point following the Fed action, to 5.16%. The reason: Investors, who had fled stocks for the safety of bonds, used the Fed move to plunge back into stocks. That ignited a sharp sell-off in bonds. And even if mortgage rates--which before the Fed move were hovering just above 7% on 30-year fixed loans--do fall, economists believe that housing's fate may be driven more by consumer concerns about job security. "If the unemployment rate rises by more than a half-point, lower interest rates won't make much of a difference because consumers may be more worried about their jobs," says First Union Corp. economist Mark Vitner.
BROKEN DEALS. So for the moment, what was an engine has become a drag on the economy. David F. Seiders, chief economist for the National Association of Home Builders, notes that the sharp drop in residential investment shaved a few tenths off third-quarter gross domestic product growth and a tenth off fourth-quarter GDP. A slowdown in housing can't be taken lightly, considering that housing and related sectors have generated roughly 20% of economic growth since the mid-1990s.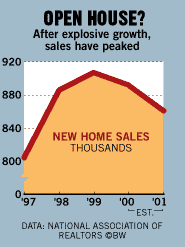 Evidence abounds that the market is cooling. In the upscale Uplands section of Austin, Tex., where new $750,000 homes sold within hours of hitting the market, the development is now dotted with "for sale" signs--most of which have been up for a month or more. In San Francisco, John M. Lee, a broker with the Pacific Union Real Estate Group, notes that the number of "DFTs"--industry shorthand for "deals fell through"--has climbed to 25% at his agency, from just under 7% early in 2000. And while Bay Area housing values have held up surprisingly well--the median home price in San Francisco hit $463,990 in October, up nearly 5% from September and 26% from the year earlier--Lee isn't convinced the trend can continue even if interest rates decline further.
Nevertheless, many larger builders who have stockpiled land during fat times have little choice but to move ahead with new projects. In Atlanta, John Wieland Homes & Neighborhoods Inc. is shifting its emphasis from single-family units to lower-priced townhomes. But with the economy cooling, there's no guarantee that if the nation's developers build it, buyers will come.
Before it's here, it's on the Bloomberg Terminal.
LEARN MORE