Embraer: The Sky's The Limit
But soaring jet sales could spark a trade war with Canada
Jonathan Wheatley
The local police band breaks into the national anthem as Mauricio Botelho, president of Embraer, whips a blue cloth off a commemorative stone. It's the second time in a month the Brazilian aerospace group has started work on a new factory, and Botelho is fired up. "We're investing heavily, we're creating jobs, we're distributing wealth," he tells the crowd of farmers and politicians who have braved the scorching sun to get a look at the man who's going to build jets amid the cane fields and orange groves of upstate Sao Paulo.
Botelho has got plenty to brag about. In the six years that the 58-year-old engineer has been behind the controls, Embraer has become the world's fourth-largest maker of passenger planes and Brazil's biggest exporter to boot. Sales soared 32% in 2000, to a record $2.6 billion, generating profits of $315 million, according to analyst estimates. Not bad for a company that regularly racked up multimillion-dollar losses before it was privatized in December, 1994.
But not everyone is basking in the glow of Embraer's success. Canada's Bombardier Inc., which once dominated the fast-growing market for 20- to 110-seat jets, has seen its share slip in the past five years. "Embraer has closed the gap and now has almost 50%," says Doug Abbey, president of AvStat Associates Inc., a Washington (D.C.) aviation consultancy.
Since 1996, the two rivals have been locked in a bitter dispute over export subsidies. The battle escalated all the way to the World Trade Organization, which ruled that the subsidies Brazil and Canada grant their respective planemakers are unfair. Both countries have modified their subsidy programs, but the WTO says Brazil must go further. So on Dec. 12, the organization authorized Canadian trade sanctions on $1.4 billion worth of Brazilian imports over six years.
Both Canada and Brazil say they want to avert a full-blown trade war, but negotiations have become increasingly acrimonious. That's not surprising given what's at stake. According to AvStat, sales of small passenger jets will nearly double over the next two decades to more than 400 a year, as regional carriers in the U.S. and Europe retire their turboprop aircraft and those in Latin America and Asia build up their fleets.
The Brazilians badly want a bigger share of this market. Founded in 1969, Embraer made a name for itself building high-quality civil and military aircraft. Trouble was, they were so expensive nobody wanted to buy them. That has changed. Embraer's family of regional jets, launched in 1995, was an instant hit with U.S. airlines like American Eagle and Continental Express and Switzerland's Crossair.
Price is one big factor. Embraer's popular ERJ 145, a 50-seat jet, sells for around $17 million, compared with $21 million for a competing aircraft made by Bombardier. And that price differential grows larger when so-called Proex subsidies are factored in. Under that scheme, Embraer's overseas customers are eligible for low-interest loans that can slash as much as $2 million off the price of a new plane. "Undoubtedly, Embraer has gained a much larger share of the market than they would have achieved without Proex," says Yvan Allaire, executive vice-president of Bombardier.
"IN TUNE." But to hear Botelho tell it, Embraer's strengths lie elsewhere. "We have the right product at the right time," he says. That claim appears to hold some water. "They're really in tune with what their customers want," says David Wheeler, a Bear, Stearns & Co. analyst in Sao Paulo. A case in point is the ERJ 145 XR, a jet Embraer developed specifically for Continental Express so it could fly longer routes.
Now, Embraer is moving on to bigger things. The first in a family of 70-, 98-, and 108-seater jets will begin rolling out of its Sao Jose dos Campos factory in 2002. With the larger jets, Embraer will be playing David to such industry Goliaths as Boeing Co. and Airbus Industrie. Still, Embraer has buyers for 120 of the jets, plus 205 options to buy, bringing its total backlog to 914 orders and 577 options as of the end of November.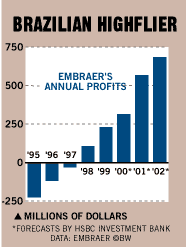 In the long run, taking on Boeing and Airbus may prove ill-advised: Another short-haul planemaker, Fokker, folded in the mid-'90s, in part because it couldn't vie with the giants. But for now, investors seem confident Embraer will remain a highflier. In July, its ADRs were launched on the New York Stock Exchange at $18.50. They now trade at around $40.
That's remarkable for a company at the center of an international trade spat. Embraer itself has nothing to lose from sanctions, since Canada doesn't import any of its jets. More important, analysts expect it will survive the phaseout of the Proex program: Operating costs have fallen vis-a-vis Bombardier's, thanks to the 1999 devaluation of the Brazilian real. It will take more than fierce trade winds to knock Embraer off its course.
Before it's here, it's on the Bloomberg Terminal.
LEARN MORE