Can Fox Make Mexico A Nation Of Homeowners?
The first task: vastly boost mortgage lending
Elisabeth Malkin
Each year, 700,000 weddings take place in Mexico. The vast majority of these newly married couples have nowhere to live and start out bunking with inlaws. Many will go on to build their own homes, one cinder block at a time. A lucky few may eventually qualify for a government-subsidized mortgage. Only the wealthiest will be able to buy a house outright, usually with the help of relatives.
With Mexico's baby boomers now coming of age, the housing shortfall is estimated at some 6 million. Mexico's new president, Vicente Fox, has vowed to attack the problem. His ambitious goal: to more than double construction of new homes, from 320,000 last year to 750,000 by 2006, at an annual cost of $20 billion.
To finance the flurry of new building, the Fox administration is contemplating an array of reforms, ranging from an expanded system of housing subsidies to the creation of a national mortgage bank. That may sound like a heavy dose of government intervention, but Fox's adviser on housing, Jose Luis Romero, maintains it's the right prescription: "We have to stop fearing the words [government] guarantee and subsidy," he says.
A key goal of the reforms is to bolster Mexico's anemic mortgage market, which now revolves almost entirely around government-financed programs targeted at the lower class. Members of the middle class, in contrast, have been unable to get bank mortgages since the December 1994 peso devaluation, which sparked a massive wave of debt defaults. According to Softec, a Mexico City real estate consultancy, mortgage debt amounts to just 8% of gross domestic product, compared with 54% in the U.S.
THE TRICKY PART. To boost construction of new homes, the Fox administration wants to spur development of a secondary market for mortgage debt. "The big trick to getting the mortgage market going is if you can securitize," says Christopher Albi, Latin American housing analyst at Merrill Lynch & Co. in New York. That means bundling some of Mexico's $50 billion in outstanding public and private mortgage loans into tradable securities with an interest yield high enough to attract institutional investors. In turn, the money raised from the sale of this paper would deepen the pool of capital available to public and private home lenders.
To make mortgage-backed securities attractive to institutional investors, including Mexico's pension funds, the government will initially have to act as a guarantor, says Romero. In time, that role could be assumed by a national mortgage bank, along the lines of Fannie Mae in the U.S. "It has been proven that no country on the planet has been able to generate a secondary market for mortgages without the selective, temporary intervention of the government," Romero says.
Still, there are plenty of hurdles. For starters, it's still unclear who is in charge of Fox's housing policy, since Romero was recently appointed to head the national export development bank, Bancomext. Besides, creation of a secondary market for mortgages may be hampered by the poor quality of existing credits. Delinquency rates at the largest government housing program, Infonavit, run at 23%, while some banks saw their share of nonperforming loans surge to as high as 40% in the aftermath of the peso crash. What's more, the courts frown on foreclosures, so creditors' chances of recouping assets in cases of nonpayment is virtually nil.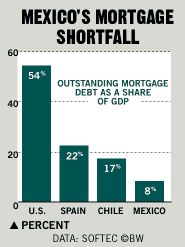 Mexican banks are only now beginning to grant new mortgages after a six-year hiatus. And this time around, they are being extremely cautious. Banca Serfin, for instance, requires borrowers' monthly income to be at least $3,500--a staggering sum in a country where annual GDP per capita is under $6,000. Jorge Alfaro, director of consumer credit at Serfin, estimates banks will lend some $1.25 billion this year, enough for just 25,000 homes.
Despite the risks involved in securitization, there are already pioneers. In June, Hipotecaria Su Casita, a mortgage finance company, sold $18 million in 10-year securities backed by future mortgage flows. The money raised will be used to finance credit for 400 new homes in Mexico City. "They crossed the line and set a precedent," says Donald Forseck, finance director at Consorcio Ara, a leading Mexican housing developer. That's a precedent the Fox administration can build on.
Before it's here, it's on the Bloomberg Terminal.
LEARN MORE