A Tough Job For Poland's Tough Guy
New central bank chief Balcerowicz has to walk a tightrope
Bogdan Turek and David Fairlamb
He's called the Iron Man--an appropriate name for a government official who is more respected than loved. And true to his moniker, Poland's Leszek Balcerowicz has fashioned a career out of doing difficult, unpopular things.
As the architect of Poland's "shock-therapy" reform almost 10 years ago, he forced wholesale change on the economy. The price was plummeting living standards for many Poles and rising unemployment, but the result was a measure of stability that attracted $48 billion in foreign investment and laid the foundations for heady economic growth rates of up to 7% in the middle and late 1990s. More recently, as Finance Minister last year in a coalition government, Balcerowicz insisted on draconian budget cuts to curb spending. Although the economy suddenly slowed and 2.6 million Poles are now unemployed, Balcerowicz, high-minded to the last, quit the Cabinet when his coalition partners tried to soften the impact of the cuts.
FINESSE. Now, the Iron Man has a new job. On Jan. 1, Balcerowicz became president of Narodowy Bank Polski, the Polish central bank. He replaced the highly respected Hanna Gronkiewicz-Waltz, who took a job in London as vice-president of the European Bank for Reconstruction & Development. Most businessfolk tend to favor a tight monetary policy and are pleased with the appointment. Both the market and currency, the zloty, jumped with Balcerowicz' arrival. "He gives us a feeling of safety," says Miroslaw Gornicki, chief economist at BIG Bank Gdanski.
A deceptive sense of safety, possibly. Balcerowicz' job calls for a kind of finesse that he has never shown. The champion of shock therapy and fiscal stringency has to decide when and how to lower rates enough to rekindle growth--without crashing the zloty and reigniting inflation. And he has to manage this tricky maneuver in the most turbulent international markets since the Russian crisis of 1998.
How Balcerowicz moves on rates could set the course of the Polish economy for several years. The country has been a standout performer in a distressed region, but of late its central bank has steadily jacked rates up to 10% or so (when adjusted for inflation). That has powered the zloty on foreign exchanges, and outside investors have flocked to high-yielding Polish government bonds.
Yet the high cost of money, plus government efforts to cut the budget deficit, have driven economic growth down to barely more than 3% last quarter. That's not enough to dent the 14% unemployment rate. And slow growth makes it tougher for Poland to reach the level of development it needs to ensure a smooth entry into the European Union.
So the pressure on Balcerowicz to cut rates fast and kick off growth will be enormous. Government ministers are keen to stimulate the economy and reduce unemployment before the general election later this year. Even the International Monetary Fund, which tends to favor financial stringency and strong anti-inflationary policies, says rates should come down to spur growth.
Trouble is, a rate cut could spike inflation, still unacceptable at 9%. It could also weaken the currency, making imports more expensive. That could boost the current-account deficit: It's come down from a March peak of 8.3% of gross national product but is still worryingly high at 6.8%.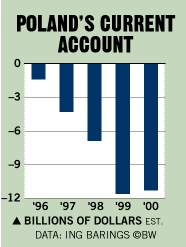 Economists say that the best way to stimulate growth without fueling inflation is for Balcerowicz to push through a gradual loosening of interest rates: They suggest a series of 1 percentage-point cuts starting as early as February or March. Balcerowicz himself is keeping mum--except to say an easing is possible this year. "A cut will take place but not now," says Janusz Krzyzewski, a member of the central bank's monetary council. "We don't want to do it in a hurry." That may be sound policy, but not sound politics: Polish workers, ministers, and parliamentarians are getting impatient. The Iron Man will need to be as tough as ever to withstand the pressure.
Before it's here, it's on the Bloomberg Terminal.
LEARN MORE