A Prince's Dream Town Is A Hit...And So Are His Organic Goodies
Jane Knight
Taxi drivers call it Charlieville. Architects say it looks like a theme park. And visitors sometimes stop in the quiet streets, asking if it's open. The model village of Poundbury, built on Prince Charles's land according to his strongly held architectural ideals, has come in for a lot of criticism. Its picture-postcard rows of "Victorian" stone cottages and faux-Georgian houses separated by twisting lanes were designed to merge into a corner of rural England that inspired the novelist Thomas Hardy. It's hard to believe the dates etched in stone over some of the house doors: The earliest reads 1994.
But with a tenth of the planned 2,000 homes finished and occupied, the second phase of building began last summer in a different climate. Praised in several parliamentary reports, Poundbury has been dubbed the "edge of the urban renaissance" by Deputy Prime Minister John Prescott. It has already been copied in neighboring regions. "Poundbury is a valid blueprint for future development," says Royal Institute of British Architects President Marco Goldschmied.
It may look old, but Poundbury is introducing new planning ideas in terms of mix, housing density, traffic, and energy efficiency. It will one day house 5,000 people, with stores, offices, and leisure facilities all an easy stroll away. By the time it's finished, Poundbury will be a major extension to Dorchester and its population of 15,000.
And although some architects remain skeptical, Poundbury is a business success. The Duchy of Cornwall, which owns the land in Dorset where Poundbury is located, and which has provided an income for the heir to the throne since the 14th century, first sells land for about $700,000 per acre (0.4 hectare), though it doesn't take payment until building is completed. Companies then bid to build the homes, which they say yield at least 10% more than modern-style developments. Five-bedroom houses are going for $420,000. The layout, with many rows of terraced cottages opening directly onto the streets, means there's extra profit from squeezing 16 homes onto each acre.
CRIME-FREE. Yet Poundbury still looks like a rural idyll. Houses are individually designed to avoid the cookie-cutter effect, using local brick and slate. There are no overhead wires and no satellite dishes: All services to the energy-efficient homes are underground. Prince Charles plays a guiding role in the design, with all the ideas coming from his book A Vision of Britain. Poundbury looks exclusive, but 20% of the houses are reserved for rentals to the disadvantaged. Crime is almost nonexistent. "There's a great community spirit here," says resident Sue McCarthy-Moore.
Attracting businesses to an area 200 kilometers from London has proved a challenge, admits development director Andrew Hamilton. But that's changing. A chocolate maker and cereal manufacturer are ensconced in the traditional-looking factories on the edge of town. And the shops around the main square are starting to be inhabited. There's an alternative health-care clinic and an organic market, both topics that interest Prince Charles. Which puts just about everything in Poundbury right up his street.
Charles's interest in organic food isn't new: Back in 1986, he took the 400-hectare farm on his Highgrove Estate organic. Using the farm's wheat and oats, he launched the Oaten cracker four years later as the first product in his Duchy Originals brand. Now the organic label has seven product lines ranging from chocolates to bacon, made to Duchy specifications under a licensing operation with manufacturers.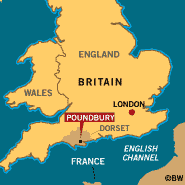 Duchy Originals product manager Fiona Gately says the pioneering company caters to an increasing demand for organic food. In Britain, the market for such edibles has grown over the last two years by 40%, to $764 million for the 1999-2000 period. The Soil Assn., a group that promotes organic farming, says sales are expected to double in 2001-02. "The Prince is one of the leading lights of organic food in Britain," says a spokesman for the group. "He is certainly a bit of a visionary." With Duchy Originals' retail turnover of $8 million expected to double in the next two years--the company takes a royalty on what the manufacturers produce and gives the proceeds to charity--investors might wonder just what His Royal Highness is going to champion next.
Before it's here, it's on the Bloomberg Terminal.
LEARN MORE