business
Will Smart & Final Get Swallowed?
By
Investors are hungry for new names with promise in today's tough market. Smart & Final (SMF) isn't new: It's a Big Board company that runs the oldest and largest chain of nonmembership warehouse groceries. But some believe it could deliver a triple win: It's an undiscovered defensive play in a dragging economy. The stock hasn't been savaged but neither has it sparkled. And it is assumed by some to be a takeover bet.
Investors savor the company's earnings turnaround. In the third quarter, the company earned 14 cents a share, up from 8 cents a year ago. For all of 2000, analysts say earnings will jump to 38 cents, and to 59 cents in 2001, up from 18 cents in 1999. The market's propensity to focus on defensive stocks--food service, restaurants, and groceries--should eventually catch up with Smart & Final, says one money manager who has been accumulating shares, now trading at 8 1/8.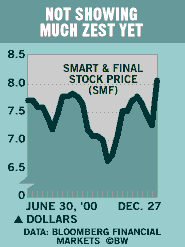 Here's the skinny on a takeover: Groupe Casino, France's top supermarket chain, owns 59.7% of Smart & Final. Casino has been buying shares in the open market. As recently as last May, it bought 881,000 shares for up to 8 1/4 a share.
There was talk that Groupe Casino would launch a bid for the rest of Smart & Final. But the euro's weakness, says one investment banker, delayed its advance. The euro's recent rebound could prod the French company into action, says the banker. He values the stock at 14 a share in a buyout. Smart & Final didn't respond to a call.
Before it's here, it's on the Bloomberg Terminal.
LEARN MORE