This Hmo Needs Resuscitating
Low premiums from Medicare have PacifiCare on life support
by
Ovella Goodson's cancer is in remission. Her husband, Alfred, has had heart problems. So the retired couple was relieved to hear in August that Secure Horizons was taking over their coverage from the health-maintenance organization that had dropped them and thousands of other Texas City (Tex.) residents. And when Secure Horizons told elderly patients they could keep going to their existing doctors, the couple quickly signed on. Three weeks later, however, the Goodsons allege they found out that they had been reassigned to a doctor 100 miles away, in Beaumont. "They just plain lied to us," says Alfred.
The Goodsons and six other senior citizens filed a lawsuit in October: The trial is scheduled to begin on Feb. 5. Until then, Secure Horizons has agreed to let the couple and scores of other old folks keep their doctors. But for Secure Horizons' parent company, PacifiCare Health Systems Inc., the trial is just one symptom of its ailing health. PacifiCare, the nation's largest HMO for Medicare patients, has been placed under the administrative oversight of the Texas Insurance Dept., which reprimanded it in November for slow payments and "accessibility and continuity of care." The company has also been hit with a pair of shareholder lawsuits. A new chief executive, Robert O'Leary, quit in October, after only three months. His successor, Howard Phanstiel, acknowledges that he faces "a couple of very tough years before we can get the company straightened out." When asked to comment on the patient lawsuits, a company spokesman said: "We regret what happened and are taking steps to remedy the situation quickly."
Why the pileup of problems at the HMO, which has 4 million members in nine states? PacifiCare has been struggling for much of the past year with the consequences of a 1990s push into the Medicare market. The move quadrupled the number of older members on PacifiCare's roster, but in the process it also saddled the HMO with 1 million members on Medicare. Medical expenses for those patients go up 10% to 11% annually, but following a 1997 government effort to rein in Medicare costs, premiums have increased an average of only 2% annually in the past two years. Largely as a result, PacifiCare's earnings have been in a tailspin, falling 30% for the first nine months of 2000. It trades at $13.31 a share, off 80% from its June high.
Fixing PacifiCare won't be easy. For years, the Santa Ana (Calif.) HMO signed doctors and hospitals to contracts that paid fixed fees and required medical providers to shoulder any overruns. With costs skyrocketing, hospitals and other providers are forcing PacifiCare to share those risks. And negotiations aren't easy. In October, Baylor Hospital ended its contract, refusing to accept PacifiCare's 8% rate hike--because PacifiCare wouldn't assume enough risk for cost increases among its 180-doctor group. That left PacifiCare scrambling to find hospitals to which its doctors could refer nearly 300,000 Dallas-Fort Worth members.
"A BIT NAIVE." To get a handle on costs, on Nov. 10 PacifiCare froze new enrollment of senior citizens in 41 of the 101 counties in which it operates. On Dec. 18, it cut 550 jobs, about 6% of its workforce. But such moves have their own problems. Cutting off new Medicare patients means those who remain are older and need more medical attention, says Merrill Lynch & Co. analyst Roberta W. Goodman. And as more providers insist on sharing cost risks, PacifiCare will have to add staff to help project expenses.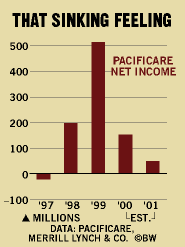 That puts a lot on Phanstiel's plate. The onetime CFO at Wellpoint Health Networks Inc. admits that PacifiCare made certain mistakes in Texas, which he says it is correcting, and that PacifiCare "was a bit naive" in not changing its business model earlier. Phanstiel envisages a number of new opportunities for the company, such as helping drugmakers test their products. But PacifiCare also needs help from Washington, where Congress has recently passed a budget allowing for a 2.5% Medicare premium hike.
Texas officials have warm things to say about Phanstiel since he took over. The new PacifiCare CEO hopes they'll help him lobby for increases in Washington, especially with former Texas Governor George W. Bush in the White House. Given the sick company Phanstiel inherited in Texas, that could be just what the doctor ordered.
Before it's here, it's on the Bloomberg Terminal.
LEARN MORE